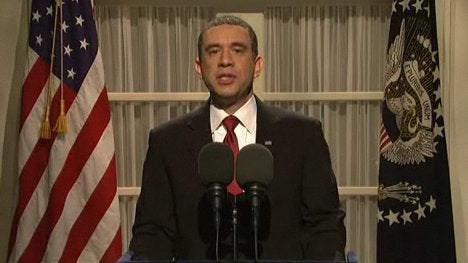 "Saturday Night Live" opened last night with a sketch mocking the president's good fortune, starting with his Nobel Peace Prize win:
"This prize bestowed by the Nobel committee in Norway is given annually to individuals who have made significant contributions to world peace. Jimmy Carter won it for decades of trying to find solutions to international conflicts, Al Gore won it for his years of education [the] U.S. about climate change, and us? Well, I won it for not being George Bush."
Obama (played by Fred Armisen) went on to announce that he had won the Powerball lottery jackpot as well. "The funny thing is it's the first Powerball ticket I've ever bought. I was driving Sasha and Malia home from school and we stopped at a 7/11 for sodas. We all chose two numbers and there you have it: $70 million."
This sketch comes just a week after SNL opened with a particularly harsh critique of the president's failed promises, which featured a list that had "NOT DONE" checked off next to the following categories: global warming, immigration reform, limits on executive powers, torture prosecutions, closing Gitmo, withdrawing from Iraq, improving the status of the fight in Afghanistan, health care reform, etc.
Of course, if the president were truly as lucky as SNL is making him out to be he probably wouldn't have taken office saddled with an economic crisis and two wars.
Support HuffPost
The Stakes Have Never Been Higher
Related
Popular in the Community