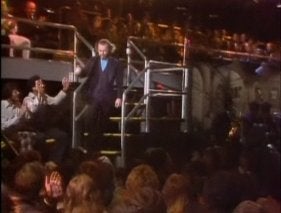 George Carlin, the comedy legend who died on Sunday at the age of 71, became a part of television history on October 11, 1975, as the host of the first-ever episode of "Saturday Night Live." This Saturday, the show, which just completed its 34th season, will pay tribute to Carlin by re-airing that first episode, live from Studio 8H.
Said SNL creator and exec producer Lorne Michaels in a release today: "You never forget the people who were there at the beginning. George Carlin helped give 'Saturday Night Live' its start as our first host. He was gracious, fearless, and most important of all, funny."
The musical guests for the debut episode were Janis Ian and Billy Preston, with a special performance from Andy Kaufman. Carlin performed three monologues, and it was the debut of future stars like John Belushi, Chevy Chase, Dan Ackroyd and Gilda Radner. It also featured a short film by Albert Brooks; Five-Timers Club member Paul Simon announcing that he'd be hosting the next week; the Bees, which became the first-ever SNL recurring characters; and, oddly, The Muppets.
This is going to be some serious appointment television (okay, fine, maybe not as much for those who already have the complete first season. But still.) It's a rerun that is not often seen — NBC used to run classic episodes in the 3 a.m. repeat slot — and, according to an NBC spokesman, the last time it aired was at 3 a.m. on February 26, 2005. Of course, that's an hour that historically is not unfamiliar to any SNLers — especially that first season cast! — but even so, it's cool that the first-ever episode is airing in prime-SNL time, and acknowledging its debt to its first-ever host.
The full rundown of the episode, including transcripts, is here; you wonder how they packed it into 90 minutes. I guess we will see on Saturday.
Related
Popular in the Community