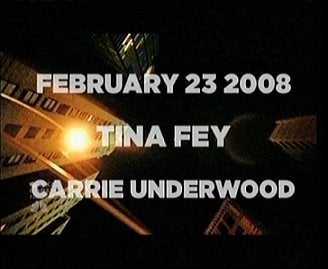 Saturday Night Live will be back — finally! — this coming Saturday, February 23rd, with special guest host Tina Fey, fresh off her Golden Globe and ready to pour some prime-time synergies into her former baby, where she spent years as a cast member and head writer. After the strike, all the shows could use a boost, so it makes perfect NBC sense for there to be some serious cross-pollination, in the from of cameos from 30 Rock. My money's on perennial host Alec Baldwin (to whom Fey has already shouted-out in promos for the show), plus former cast member Tracey Morgan, and possibly Jack "Kenneth the Page" McBrayer, who knows all the SNL kids from their off-hours antics at the Upright Citizens Brigade theater (backstory here). Expect a pull-out-all-the-stops show.
That's just my prediction of course — and lord knows those aren't worth much. For evidence, you need look no further than the New Hampshire primary, and, along those lines, at the very first moments of the SNL season opener, featuring Amy Poehler as Hillary Clinton, smugly delivering an address to the nation as the "All But Certain to Be The Next President." Golly, September sure seems like a long time ago, watching that (though there's a touch of prescience in how Darrell Hammond as Bill Clinton refuses to get out of frame). Less so was the next clip from the Brian Williams-hosted show, where BriWi proclaims that the media have "pretty much made up our minds" that she'd be the nominee. Golly, November sure seems like a long time ago! There was a touch of prescience there too, in the form of Jason Sudeikis' version of Joe Biden planning to invoke the phrase "Where's The Beef?" which, amazingly, actually popped up earlier this year in reference to Barack Obama. It made little sense back when Sudeikis said it but not a whole lot more on the actual campaign trail.
Speaking of the campaign trail, SNL's got plenty of material to sink it's teeth into and get caught up, to both the current political situation and its comedic brethren at the Daily Show, Colbert Report and the talk shows as part of what former host BriWi calls "a separate branch of government." Alas, no word on whether that branch will include anyone to play Barack Obama (other than actual Barack Obama, who's come through before in a pinch but will probably be a little busy this time around) — but, seriously, a representative from the show remained noncommittal on that critical casting matter, which has yet to be addressed this political season. Ah well, there's always Maya Rudolph dressed up "Time-Traveling Scott Joplin" style, unless Kenan Thompson's kept busy during his strike time. Videos below!
Calling all HuffPost superfans!
Sign up for membership to become a founding member and help shape HuffPost's next chapter