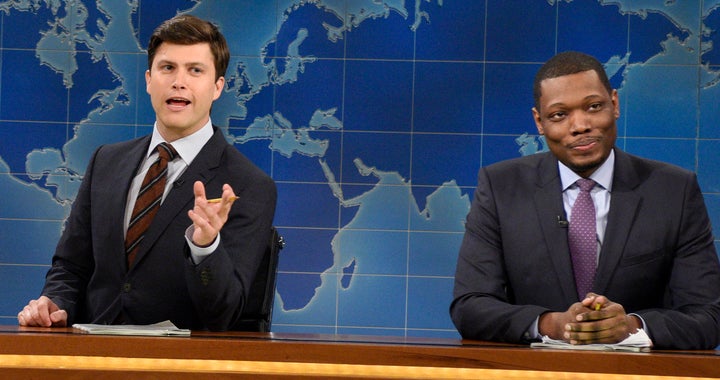 The "Saturday Night Live" offices in 30 Rockefeller Plaza have been going through a time of transformation this summer, physical and otherwise.
When Season 42 ended, "SNL" prepared for renovations on its floor. Cast member Kate McKinnon hilariously shared that she had taken a giant hammer to a wall she thought was coming down, and only after wrecking it did she learn that the wall was supposed to stay intact.
Beyond the chaos of a building refresh, though, the show was simultaneously preparing for another kind of adjustment: "Weekend Update" was getting a seasonal makeover in the form of "Weekend Update: Summer Edition."
Why the change? The last season of "SNL" earned higher ratings than the show had seen in years, but veteran cast members like Bobby Moynihan expressed how difficult it was to keep up with Donald Trump's real-life bizarre behavior within the confines of the show. For Moynihan, last season was a "completely different" experience from what he was used to.
Enter "Summer Edition." The new weekly show ― which debuts Thursday, Aug. 10 ― certainly won't be shying away from the Trump mockery that the main show became known for over the last year. In fact, according to NBC News, the new "Update" will follow a similar format as the original and steer directly into the latest political stories dominating the news.
"There's going to be more features and more jokes and more things to do."
"It's gonna be like a regular 'Weekend Update," but extended to a half-hour standalone show led by regular anchors Colin Jost and Michael Che, longtime "SNL" costume designer Tom Broecker explained to HuffPost.
"There's going to be more features and more jokes and more things to do," he added. "It will be just like a regular show, just longer."
Part of the idea behind "Summer Edition" was to catch the stories "SNL" would otherwise miss during the show's seasonal hiatus. "Missing [Anthony] Scaramucci was sort of like missing Christmas," Jost told NBC News of the former White House communications director's departure in July.
Broecker agreed. "I mean, [a show] last week would have been amazing," he said on Tuesday morning. At that point, his crew was preparing for the show's very first rehearsal just days before its premiere.
But Broecker remained confident. After all, his team had been through this before.
Watch Jost and Che play the roles of Trump-mocking anchors beginning on Aug. 10 at 9 p.m. ET on NBC. The show will run for four weeks.
Popular in the Community