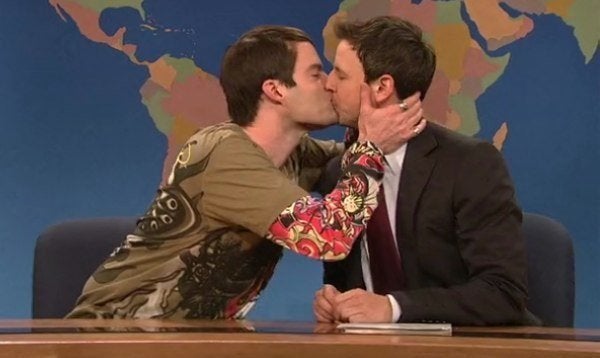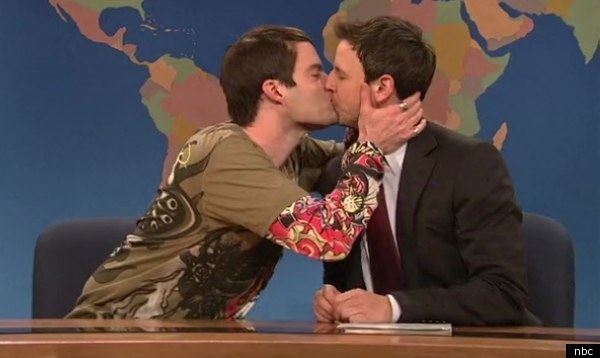 "Saturday Night Live" will be dark for the next three weeks, returning on April 7th with Sofia Vergara as host and One Direction as musical guest. And, yes, it's apparent that the show needs the break after running on fumes for the last two shows. There are only five new shows remaining in this season and of "SNL" as we currently know it. There's no doubt that major cast changes are coming, so, hopefully, when they return, this current lineup can put together one last surge of great shows. As for last Saturday's show...

1. Taran Killam (Last Week: 8) Killam is already getting a head start with his "SNL" domination, which technically doesn't even begin until next season.

2. Bill Hader (Last Week: 4) An appearance by Stefon Zolesky is an automatic placement for Hader in the top three.

3. Kristen Wiig (Last Week: 3) Gut feeling time: Kristen Wiig has five shows left as a cast member.

4. Andy Samberg (Last Week: 7) In this weekend's "SNL" Scorecard, I may have written something along the lines of that it was time for the Digital Short era of "SNL" to end. I only mention that because of how good the Digital Shorts used to be. Again, gut feeling time: the Digital Short era will end after five more episodes.

5. Vanessa Bayer (Last Week: 11) Gut feeling: At this time next year, Vanessa Bayer will be "SNL's" dominant female force.

6. Fred Armisen (Last Week: 6) I can only imagine that Armisen's air time was cut quite a bit for the amount of time that he had to sit in the makeup chair.

7. Seth Meyers (Last Week: 10) Meyers delivery seemed rushed, but, then again, he did make out with Stefon Zolesky.

8. Jay Pharoah (Last Week: 13) Poor Jay Pharoah. Sitting there on the set of "Sportscenter," all ready to go. The camera even pans in for the mid-commercial break teaser. Then, without warning, "Sportscenter" is gone. Was it all a dream?

9. Jason Sudeikis. (Last Week: 1) "Hey, Jason, you dominated last week's show. We have some interesting ideas for you this week if you're interested." "You know, I think I'm gonna go ahead and pretty much sit this one out. Thanks, though." I have another gut feeling: Only five shows left for Sudeikis, too.

10. Bobby Moynihan: (Last Week: 2) I don't know how many times I have to say it, but no individual show is complete without a Bobby Moynihan reaction shot. Perhaps there would have been one in that mysterious Sportcenter sketch that was cut.

11. Kenan Thompson (Last Week: 5) I'm really not sure what my gut feeling is on Kenan's return. But if someone had told Kenan way back when he started on the show in 2003, "Yep, in 2012 you'll still be a cast member and on the March 10, 2012 show your only appearance will be as a waiter serving the guy from 'Superbad,'" I can only imagine Kenan's response would have been, "What's 'Superbad'?" because "Superbad" will not come out for another four years.

12. Abby Elliott (Last Week: 9) With Elliott, it's not even a gut feeing: She obviously wants to leave the show. If you're actually enjoying your time on "SNL" you don't try to get on a pilot for a possible new series next season. Though, considering her role on the show, I can't say that I blame her.

13. Nasim Pedrad (Last Week: 12) If Nasim Pedrad can make it through the rest of this season without losing her mind, she will benefit the most from Kristen Wiig's almost certain departure from the show.
Calling all HuffPost superfans!
Sign up for membership to become a founding member and help shape HuffPost's next chapter