There's a lot more to Jeff Richards than people realize. Over the past decade, the Saturday Night Live and MADtv alum has been unleashing a series of experimental comedy electro-pop E.P.s accompanied by bizarre and hilarious music videos that harken back to the golden age of MTV when acts like M, Barnes & Barnes and Miss Julie Brown ruled the roost. Now Richards has compiled the best of those idiosyncratic musical nuggets in a sort-of Greatest Hits release called The Shingles: 2009 - 2014 - and these shingles are a disease worth catching. Jeff Richards (photo by Neil Visel)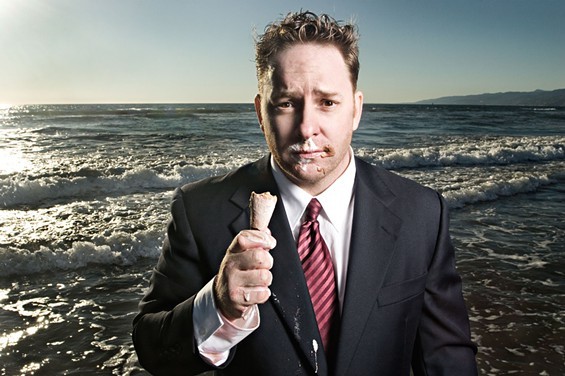 Though the entire running length is under a half hour, RIchards' tunes, weighted in early 80s synth pop and crowned with a seemingly nonsensical, aural madness, are actually packed with complex themes: distrust of the medical world, alienation, fascination with death and dying, etc. - all while being playful, joyful, and downright bouncy. And though comedy permeates Richards' work, the Shingles are not obvious ha-ha novelty jokes.
When asked of his musical muses, Richards is quick to mention The Pet Shop Boys ("I saw them and thought 'I want to do this'") and Morrissey ("I think Morrissey and The Smiths are more important to music than the Beatles"). And although he claims he didn't mean to do this - and didn't even realize he was doing this, the cover of The Shingles is reminiscent of a certain Morrissey compilation album...
On creating music, Richards says,
After SNL, I discovered Garage Band on my computer, and patches of what I'd create sounded like a completed song. Then I met a musician named Ben Seaward at L.A.'s Comedy Store, and he created these tracks and I started singing on top of it, and thought 'this feels like a song' - and it just evolved from there. I grew up listening to New Order, The Cure, Eurythmics, Erasure. Big, brightly colored new wave 80s music. I loved MTV's music videos in the 80s - they were all like little parties, and that's what I want to do.
I sat with Richards over some pesto tortellini to find out about these Shingles - each and every one...
John Sanders did the music for this, and I did the lyrics on top. The lyrics are whatever hits me when I hear the music. I like to do duets with myself in different voices - that's fun for me. And this song is Dubstep so it's a different from the others, and I like it - I definitely want do more Dubstep. Every song I do is a means to make a music video. If it's not good enough to be a video, it's not good enough to be a song. Every time I'm thinking about the song, I'm thinking about the video.
Muscle Bitch music video:
I wanna do the video for this song with me in a car and lots of girls. I think this will be the next video and single. One reviewer on itunes described it as a "guaranteed panty dropper."
Track three: Tracking You
I did this with Andy Dick who's been a longtime friend. Andy Dick is a really great musician - his Andy Dick and the Bitches of the Century shows were really funny and brilliant. I love collaborating with him.
I want this animated by one of the Simpsons' guys. The meaning of the song? I have a fear of doctors a little bit. With medicine, I don't fully trust the whole system. So this song is sort of about the paranoia within the medical industry.
I might do a music video of me arm wrestling little girls. And that's what it's about - me arm wrestling little girls. It's nonsensical. "What you into?/I speak Hindu." What's the song about. Hard to say.
Track six: I Cry At Weddings
At a whopping two minutes and 46 seconds, it's the longest song on the album. I did this with my old high school friend, Peter. My whole thing is I never got invited to weddings, unless I had a girlfriend who got invited to them. So this song was sort of the contempt about going to weddings. I used to drink at weddings and then I'd get sleepy. "The band sounds like shit/I wish they would quit/all they play are covers/they can suck my dick." Basically it's like get me out of here.
Track seven: Rain Makes Me Wet
Maybe my most famous Shingle? People like it because it's kind of out there. The video has some bondage in it. I'm a little out of shape with a comedy body. I've been on a diet for eight years and I lost two pounds in eight years.
Rain Makes Me Wet music video:
Track eight: When I Get Smart
I listen to the music and decide what the lyrics should sound like. This is probably the silliest one. I sing it like if I were an eleven year old pop star in the 80s. Wendy Lee (who helmed Pad Yatra: A Green Odyssey, the Himalayan documentary feature) directed the video and she's like a big deal now. I knew her when she was really young.
When I Get Smart music video:
Track nine: Go Stop Wait Go
This is Adam Carolla's favorite song on the album. I don't know why - he just loves it. It is the second shortest track on the album. It's a breakup song - there's some anger in there - I think.
Track ten: Someday You Will Die
It's a little Morrissey. It's all the different ways you can die, and I tried to make it witty. I like that the album ends with death - not that anyone's gonna get that.
Jeff Richards on Conan talking about his now-classic SNL character, Drunk Girl:
Calling all HuffPost superfans!
Sign up for membership to become a founding member and help shape HuffPost's next chapter