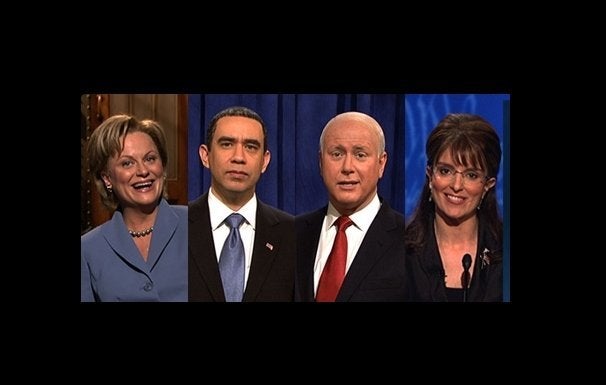 How do you know it's finally the election? Because the last SNL special aired last night — after starting the season early with just one week off and adding in three extra weeks of a half-hour special, they wrapped up the season last night with a two-hour recap of the best of the season and season's past — plus some little nuggets of surprise thrown in for good measure. Little nuggets like an address from Sarah Palin to the nation — for those keeping track, yes, it's still more time than she gave to "Meet The Press" — and though she once again gets the good sport award for showing up and playing, my oh my does she come across badly in it (threatening to take away NBC's broadcast license skates a liiiiiittle too close to the truth considering this — though we'd bet first on her list would be yanking CBS' license, considering this and this and this.
John McCain also offered up an original sketch, with the cold open of the show; alas, the only Barack Obama and Joe Biden on display were played by Fred Armisen and Jason Sudeikis. Darrell Hammond was back not only as McCain but in a welcome return as Chris Matthews, getting reeeeeaaaally excited about the prospect of an Obama administration. (By the way, his colleague Keith Olbermann should be happy — the special proved him right! There really was another Palin script!) Special cameos from Kristen Wiig as Nancy Pelosi (oh, to have seen her take a crack at Michelle Bachman with those eyes!) plus Will Forte as the almost-forgotten John Edwards, in a sketch that reminded us just how long it had been since his scandal (broke before the Olympics!) and was just as awkward.
Yes Tina Fey was in there (plus a little vintage Phil Hartman), but the most welcome surprise was the return through the magic of pre-taping of a very pregnant Amy Poehler, dancing out for the opening monologue as Hillary Clinton and popping up to comment on herself after the fact (meta! But what isn't in this election, really). The show closed off with her rap — which is not only awesome, but is yet again evidence of what a long, strange, strange strange strange strange strange trip this campaign has been.
Sarah Palin: "The Palin Doctrine"
Poehler-as-Hillary Monologue:
Chris Matthews Likes to Watch (Obama):
John Edwards' Awkward Return (feat. Will Forte):
Joe Biden, Gaffe Machine (feat. Jason Sudeikis):
Obama/McCain Farewell:
Poehler's Palin Rap:
REAL LIFE. REAL NEWS. REAL VOICES.
Help us tell more of the stories that matter from voices that too often remain unheard.