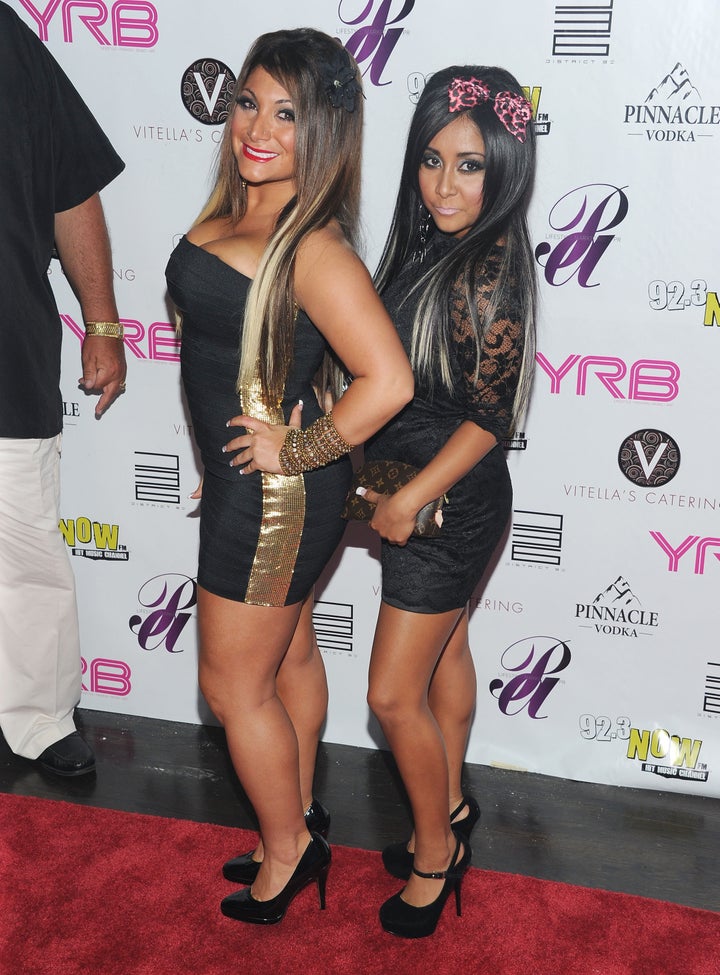 Listen up Italy--Snooki has some suggestions for you. You may be known for your art and fine dining, but this guidette has bigger plans in store for you.
"They need to get stronger tanning beds and have a gym on every block," the "Jersey Shore" star told The Huffington Post at the launch party for her upcoming cover of YRB Magazine at New York City hotspot District 36. "And they need more nail salons with Chinese people running them."
It's these simple Seaside Heights luxuries (and "McDonald's", adds Snooki) that Nicole "Snooki" Polizzi and her Jersey gal pal Deena Nicole Cortese say they missed the most while they spent a few months in Florence, Italy filming season four of the hit MTV reality show, which the girls promise is the most dramatic season yet.
"We were in a different country," says Polizzi. "We we definitely out of our element, so we relied on each other so much that we got fed up with each other and just exploded on each other."
"I was very homesick," adds Polizzi's partner-in-crime, Cortese. "That was the first time I was filming away from home and the first time I was out of the country. It was a lot to handle for me. In Italy, we really had to rely on each other, and when you're with someone all of the time, if they start to breathe funny, you're going to get annoyed with them."
The constant fighting wasn't the only drama for the cast. Just days after filming began, Snooki was taken into custody in Florence after crashing into a police car, but according to Snooki, it wasn't her fault--"It was the brakes!"
Whether you love her or hate her (or hate to love her), Snooki's not going anywhere anytime soon. Not only will Snooki and her busty best friend Jenni "JWoww" Farley star in a reality show together that will follow them after their Seaside summer, but Polizzi has a few other projects in the works.
Earlier this year, Polizzi published her debut novel, "A Shore Thing", and Polizzi assures The Huffington Post that Gia and Bella's shore stories are far from over.
"I'm working on my sequel, "Gorilla Beach", and my biography, "Confessions of a Guidette" will be coming out soon in November," says Polizzi. "It's going to be about my life but also include some tips for being a guidette."
And those reports about Snooki releasing her first fragrance? Those rumors are definitely true, and she was excited to dish on the details about her new scent, which will hit shelves this holiday season. "It smells like cotton candy," says Polizzi. "I already made the scent, and it's just getting ready now. I'm so excited about it."
No word on whether the bottle will actually be shaped like Snooki's infamous poof. Looks like we'll have to wait for the holidays to find that out.
The new episode of "Jersey Shore" airs tonight at 9 p.m. EST on MTV.
Calling all HuffPost superfans!
Sign up for membership to become a founding member and help shape HuffPost's next chapter