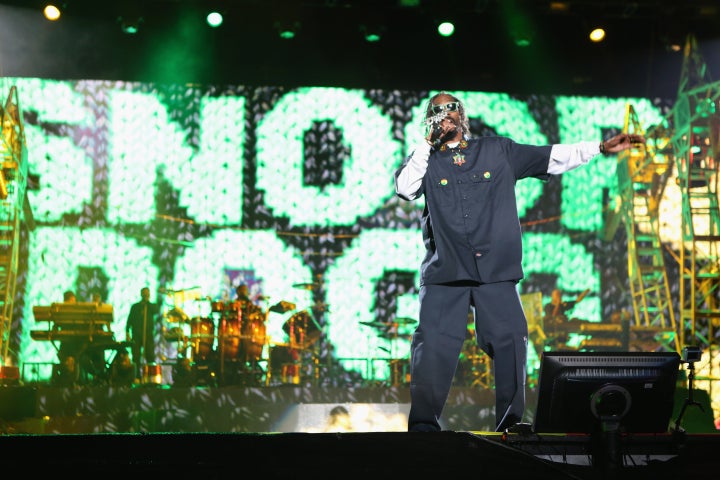 Snoop Doggy Dogg and Dr. Dre is at the door.
It was the 1990s all over again at the closing act of Coachella 2012. The three-day desert festival ended with a funkified, smoky set from rap legends Snoop and Dre, and the set was punctuated with guest appearances by Eminem, 50 Cent, Wiz Khalifa, Kendrick Lamar and an all-too-realistic hologram of the late Tupac Shakur.
Snoop Dogg, stoned and smiling, soaked up the most time in the limelight. In between puffs, he rapped solo on his hits "Drop It Like It's Hot," "Gin & Juice" and "Who Am I? (What's My Name?)." He also shared the stage with young rapper Wiz Khalifa to perform their joint hit "Young, Wild & Free." But it was Snoop's performances with Dr. Dre that electrified the stage. The two rapped together on songs like "Nuthin' But a 'G' Thang," bringing thousands in the main stage crowd back to the days of Dre's Chronic album, released in 1992.
WATCH: Snoop Doggy Dogg and Dr. Dre (WARNING: GRAPHIC LANGUAGE)
Skinny in a gray hoodie and black cap, Eminem came on stage to screams. He and Dr. Dre performed their songs "I Need A Doctor" and "Forgot About Dre." Afterward, Dr. Dre cheesed around with his protege, "convincing" him to stick around for "Till I Collapse," which started with a call-out tribute to Nate Dogg.
WATCH: Eminem and Dr. Dre (WARNING: GRAPHIC LANGUAGE)
As HuffPost Entertainment points out, it was the eerily realistic rendition of Tupac that stole the show. We'll admit we were faked out by Dre and Snoop's rendition of Tupac's hit "California Love." Little did we know that the Tupac memorial would extend to a two-song set from the late rapper, courtesy of an amazingly lifelike hologram. Tupac performed songs "2 Of Amerikaz Most Wanted" and "Hail Mary," dazzling the crowd and setting off a Twitter storm.
WATCH: Tupac Hologram at Coachella (WARNING: GRAPHIC LANGUAGE)
50 Cent skipped onstage through simulated gunshots to perform a mash up of songs "What Up Gangsta" and "P.I.M.P." Snoop joined him to help spell out "P.I.M.P," and 50 Cent closed out his set with his 2003 party song "In Da Club."
Kendrick Lamar, who had his own set earlier in the festival, returned to the mainstage to perform "The Recipe" with Dre.
Stars & Fans React to Tupac's Hologram on Twitter
CORRECTION: A previous version of this story incorrectly identified one of the songs that the Tupac hologram sang.