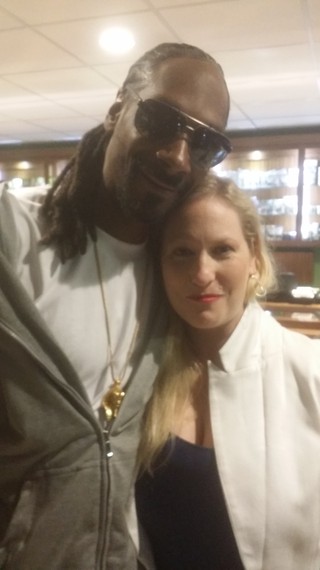 The other day I was at Starbuck's when I ran into a "mom" friend. "Carolyn, we loved your column on Burger Addict," she said, "we would have never gone there if it weren't for you."
My friend was referring to a piece I'd written about a new hole in the wall burger joint next to a biker bar that just so happens to feature a Michelin star chef.
"That's why I love what I do...finding gems in the most unexpected places," I replied as I envisioned her bringing her family for a meal in a decrepit strip mall next to a biker bar. "The place was a real dive but the burgers and the chef's story was amazing."
"We trust you, Carolyn." The woman said, using the royal, "We."

It feels good to be trusted. But trust is a funny thing.

I love what I do. I'm a mom to five and I am the sole food columnist for the community paper in my city of Renton, Washington.
I don't live in necessarily a small city. But like, say, Staten Island, 15 miles away from Seattle, Renton is always in the shadow of her big sister...we don't have a dump, but we have a long history of coal mining, blue collars and mullets that we just can't shake.
Which is to say that stories aren't always "low hanging fruit", ripe for the picking and I guess that suits my personality fine, I love doing the leg work. I love being aware of what's going on in my community. My eyes are perpetually peeled for stories about people from all walks of life doing unexpected things that inspire me.
And part of the writing joy is bringing those stories out into the light. Whether it's celebrity chefs or fledgling entrepreneurs desperately fanning the small business flame in the nooks and crannies across my city.
Last week was no exception, driving home from mundane suburban errands stuck at a red light when out of the corner of my right eye I perceived an anomaly:
A simple placard, so low-key it reminded me of what Tim Robbins ask Morgan Freeman to look for a rock in Shawshank Redemption, "At the base of that wall, you'll find a rock that has no earthly business in a Maine..."
The placard said: Snoop Dogg will be making an appearance on 11-20.
Staring at the sign it seemed beyond comprehension, like a meteor crash landing in my backyard...What in the heck was an internationally acclaimed star like Snoop Dogg doing in Renton?
Then it dawned on me, the swirling latticed awning, bright emerald green steel poles and the shop sign, Emerald Haze Cannabis Emporium, Washington States #1 Recreational Marijuana Emporium.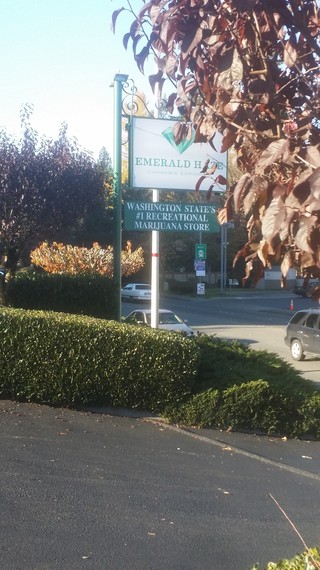 Yes, pot is legal in Washington. Yes, I voted for it. Yes, there are still social stigmas and legal unknowns for many people to feel comfortable about walking in to a Cannabis Emporium.
I have earned the trust of my community, how would they react to a column sharing Snoop's favorite medicated chocolate cookie recipe?
I asked a friend what they thought, "Pot shops are not unlike porn shops...they're legal, but you don't want people seeing you walk inside."
I have the trust of my community, but what good is that if I wasn't being true to myself or my craft? Which is, interviewing interesting people doing interesting things in my community.
Emerald Haze with Snoop Dogg was the definition of something interesting going on in my neighborhood.
Two days later I was inside the Emerald Haze Emporium recreational marijuana shop, it reminded me of a high end cigar shop with brightly lit glass cases. Courteous "Budtenders" dispensed marijuana flowers, concentrates and edibles to a trickle of customers that were allowed in with the media as we waited for an exclusive interview with Snoop.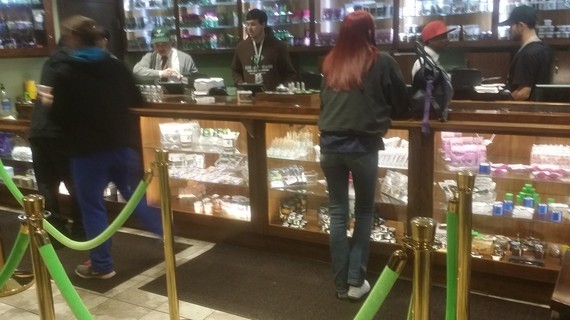 I was the only female journalist in the joint.
Pushy camera guys and their interloping tripods were immovable as Lincoln on the memorial steps in the front spots. I was relegated to the back. Until I reminded myself that this was my town and when one of the camera guys was forced to go move his car to make room for Snoop.
I shimmied into his place.
There is a lot of shop talk that happens when reporters are waiting to capture the big reveal and I had the chance to ask Jim Buchanan, President/CEO and managing partner of Emerald Haze about how he had come to know Snoop.
"I have been in the music business for many years and we have always had mutual friends. Now we have aligned business goals and the potential for a long future working together."
All the chatter ceased when the door opened and Snoop's manager rolled in (a younger and slimmer version of James Earl Jones) on a glowing neon blue hover craft type device wearing a "don't f-with me" expression in spite of sweat pants, a chocolate colored fur coat, a backpack the size of toddler.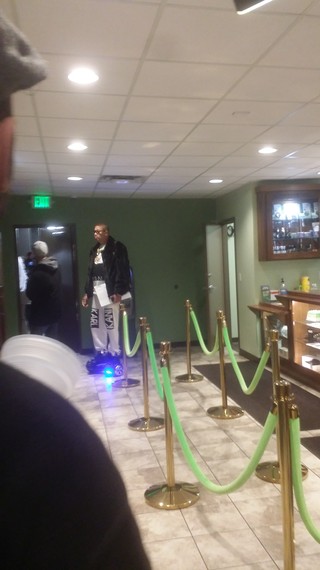 He slow rolled toward the press gallery like a human cyborg, my eyebrows raised, I felt the skin crinkle around the corners of my eyes, and a wide smile eased across my face, slowly, like hard butter melting fast in the microwave: I knew I was in for something, unexpected.
"How is he controlling that thing" I asked the cameraman next to me, referring to his ability to move around wherever he wanted, hands free.
He shrugged his shoulders and wore a bewildered smile like cave people seeing fire for the first time when the door opened and Snoop walked in wearing a comfy grey sweat suit, signature shades and that chill smile.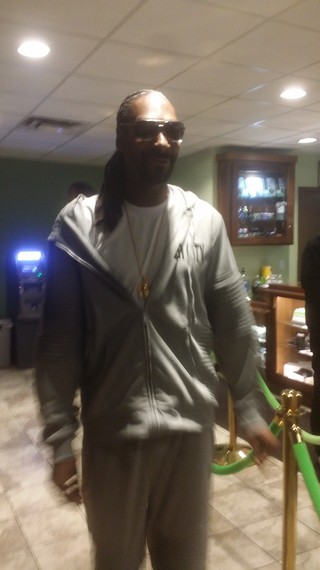 The cameraman shouted out a question, "How do you like being in Seattle?"
"Seattle's like a second home. I love the culture and experience, the vibe. It's like my cousin. And I have a relationship with Emerald Haze. We have a brotherhood and I'm coming to the best spot. I was here at the grand opening, it was fresh and is a great location. They take care and are great caregivers."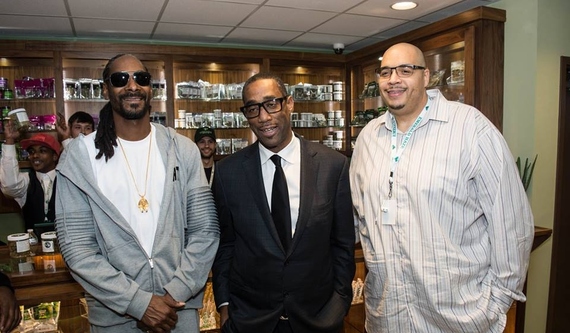 Snoop talked about Merry Jane, a new digital media business launched by Snoop that focuses on pot culture: news, business, politics and health.
And Leafs by Snoop, his new brand of cannabis products.
"Leafs By Snoop is truly the first mainstream cannabis brand in the world and proud to be a pioneer, I've been on the forefront for over 20 years. I'm happy for the movement and I'm pleased where it's going. Falling in line and making it easier to live a better life and help out the community."
Snoop finished the interview with, "I'm an upbeat guy. I love to make people have a great time. Especially in these times, I like to bring the party wherever we go."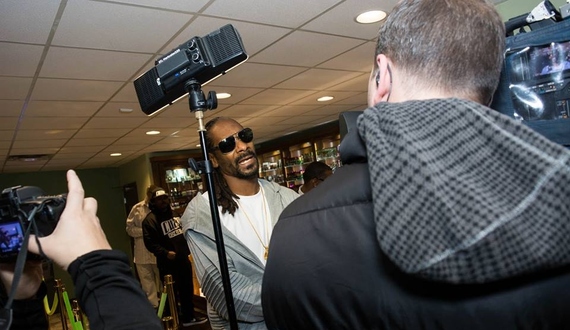 There was no trace of the superstar egomaniac.
His sound-bytes weren't political spin, they could have been lyrics.
When asked about the legalization of marijuana, he simply said, "Times are changing...it's about what's right, right now."
I left as the camera guys were still clamoring for shots of Snoop at every angle. I walked away feeling like I had gotten what I came for as I walked passed hundreds of fans waiting to meet Snoop.

Snoop's list of accomplishments are staggering. And yet, he appears to have evolved while staying true to who he is and where he came from.
For me, Snoop transcends the whole legalized pot debate. For all intents and purposes he has achieved what so many of us are striving for every day...authenticity and that inspires me and that's what I was there to write about.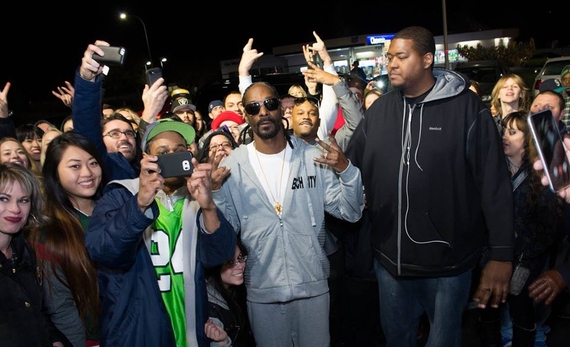 Calling all HuffPost superfans!
Sign up for membership to become a founding member and help shape HuffPost's next chapter