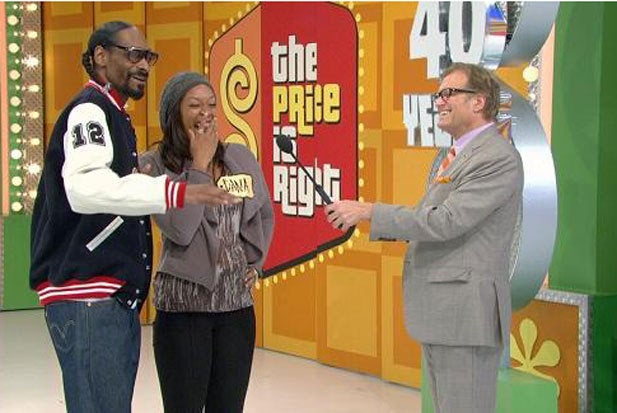 Snoop Dogg made one of his patented "Did He Really Do That?!" appearances on Monday with a spot on "The Price is Right," joining Drew Carey to create what is the greatest hip hop-daytime TV collaborations in history. The rapper played the game first, notching $72,585 for his Snoop Youth Football League (his mind was on the children's money, this time) and then took a turn doling out the prizes. Apparently, this was a big thrill for him, as he spoke after the show about growing up watching "The Price is Right."
As per his custom, it was a nice promotional opportunity for Mssr. Dogg, as he promoted the Voodoo Music Festival in New Orleans, where he'll be rapping and also hosting one lucky winner. The highlight of the show came when he put on his announcer's voice for some of the classic game show lines; if this rap thing doesn't work out for him, he could definitely end up a TV MC. Hey, he's already been on "Who Wants To Be A Millionaire?"
Eat your hizzart out, Bob Barker.
Popular in the Community