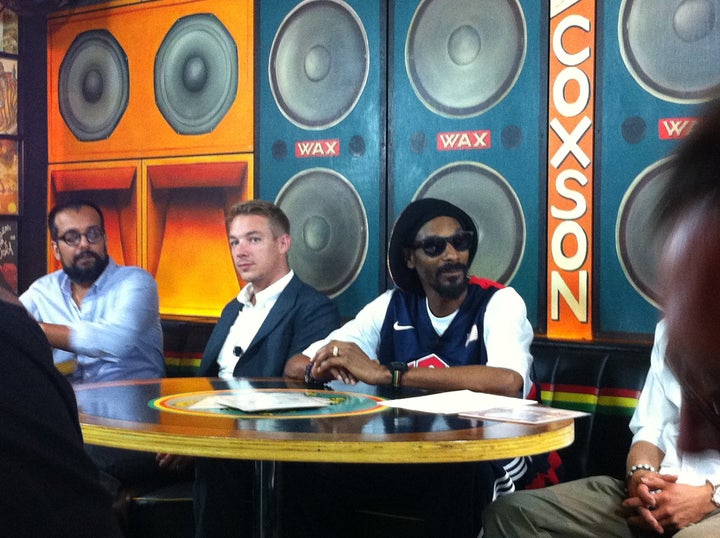 Just about a year ago, Diplo and Snoop Dogg were both at the dance music festival Electric Zoo. The elder statesman of West Coast rap was spinning dubstep on the main stage under the moniker DJ Snoopadelic and the superstar producer was doing a characteristically rigorous set in an adjacent tent. Diplo was shirtless by the end of his performance, and Snoop was rapping "The Next Episode" before he finished his.
Fast forward a year, and they've teamed up again. Snoop (née Calvin Broadus) and Diplo (Thomas Wesley Pentz -- Wes to his friends) have collaborated on a bold move for the former. Broadus has, for the time being, dropped the Dogg act and upgraded to Snoop Lion. The change is a result of his time in Jamaica, where he says he discovered his true inner Rastafarian. As a result, his new album, Reincarnated, is strictly a reggae project.
"Rap is not a challenge to me," Snoop said at a gathering of journalists and friends Monday night in the backroom of Manhattan's Miss Lily's restaurant. "With no disrespect to other rappers, but they can't f--k with me in rap ... I've won every accolade you can get in rap, they call me 'Uncle Snoop' in rap. When you're an uncle, it's time to find something new ... I want to feel like a kid again."
Diplo, who produced the entire album under his alias Major Lazer, sat to Snoop's right. He said the music was "some of the best" he's ever made and expressed his respect for the latter's career shift. "He wanted to do real reggae," Diplo said. "To sing and find a new voice. It was a dream to work on an entire record [as opposed to a single]. That's very rare."
The chat was moderated by MTV's Sway, who correctly asked Rohan Marley (Bob's son, who was seated in the audience) if Snoop's seemingly sudden adoption of the Rastafari ways caused any suspicion on the part of the local music community. "Music is universal," Marley said. "Jamaica is just a part of music, so we were open to Snoop."
It's an important co-sign, because Snoop routinely refers to himself as "Bob Marley reincarnated."
The 40-year-old once known for repping Long Beach, Calif., insisted that this wasn't a simple genre change. "It's not that I want to become Snoop Dogg on a reggae track," Snoop said. "I want to bury Snoop Dogg, and become Snoop Lion. I didn't know that until I went to the temple, where the High Priest asked me what my name was, and I said, 'Snoop Dogg.' And he looked me in my eyes and said, 'No more. You are the light; you are the lion.' From that moment on, it's like I had started to understand why I was there."
Others appearing at the presser were Vice Media co-founder Suroosh Alvi (the company has produced a feature-length film that shares the album's name and will premiere at the Toronto International Film Festival) and Ted Chung (the President of Doggy Style Records). Diplo's dance music colleague and buddy Alain "A-Trak" Macklovitch was seen mingling in the crowd, as were a host of hip-hop journalists including Eliott Wilson (RapRadar.com) and Shaheem Reid (XXL).
The album's debut single, "La La La," is already available on iTunes. "No Guns Allowed," another track on Reincarnated, seemed dear to Snoop's heart. "There's a lot of killing going on in this world, and nobody ever speaks on it until it happens. And I'm tired of it ... It's so tragic that people are still doing stupid things with guns," Snoop said. "I could have never made a song called 'No Guns Allowed,' because I'm supposed to be a gangster and we supposed to keep one on us at all times ... But after looking at my life and what it is now and my kids, and all the things that go on in life, I feel like it should be no guns allowed."
So as an "uncle" in the rap community looks for a new purpose, he hopes to find a new audience as well. "I've always wanted to perform for kids and my grandmother, people around the world who really love me and can't really accept the music that I make. This reggae music is music of love -- happiness and sadness."
Listen to "La La La" below. Reincarnated, out via Vice Records, does not yet have a release date. The film will premiere at TIFF, and a photobook will also accompany the album. Crystal Bell also contributed reporting to this article.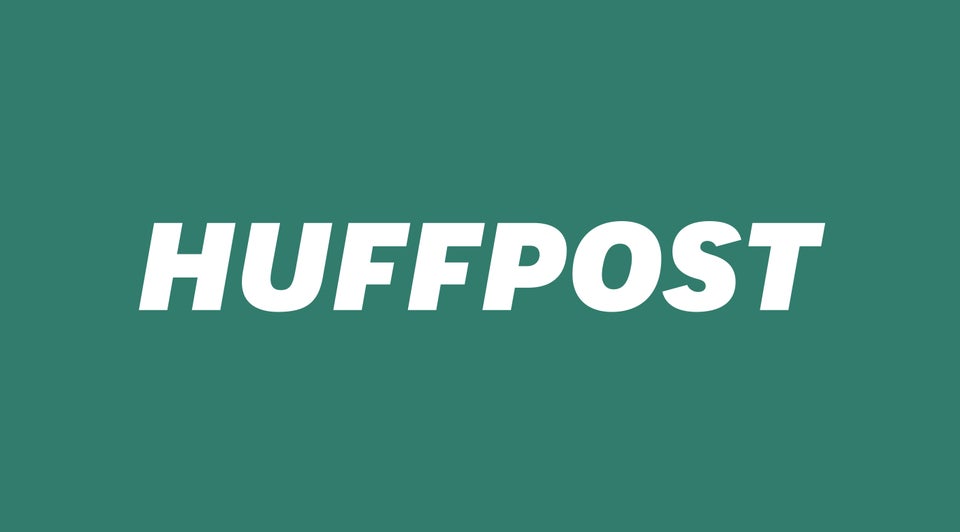 Snoop Dogg Songs
Popular in the Community