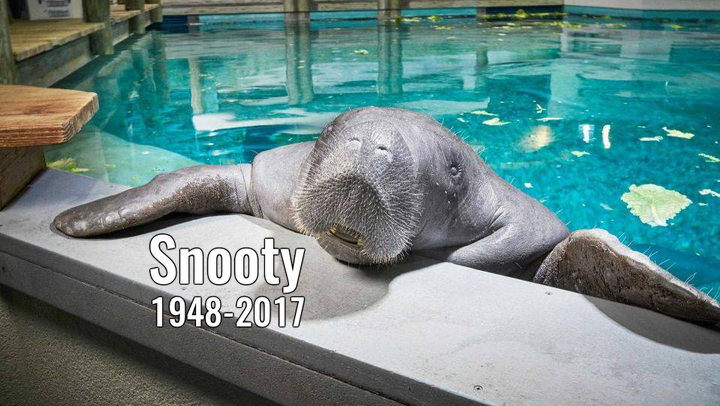 "Snooty the manatee has been a symbol of Bradenton … for almost 70 years," said the Change.org petition, which local resident and Snooty fan Anthony Pusateri authored. "To honor Snooty's legacy as a positive icon in Bradenton, I propose that the negative symbol of racism and oppression that is the Confederate monument be relocated and replaced with a statue of Snooty."
The monument in question is an obelisk that sits outside the Manatee County Historic Courthouse. Erected in 1924 by the Judah P. Benjamin Chapter of the United Daughters of the Confederacy, it is imprinted with an image of the Confederate flag, according to the Bradenton Herald. The paper reported last month that local residents were starting to debate whether or not the statue should be taken down. Some have demanded its "immediate removal."
"The old courthouse [is located] just blocks away from the aquarium where Snooty resided," the Change.org petition states. "The Confederate monument could possibly be moved to a museum (or other more appropriate location) out of everyday public eye and a more positive symbol then take its place."
Since 1949, Snooty, a 1,300-pound male manatee, had called the South Florida Museum in Bradenton home. He's believed to have been the world's oldest captive manatee.
Snooty died on Sunday in a "heartbreaking accident," according to the museum. He drowned after wandering into an underwater hallway through a hatch door that had accidentally opened, it said. While the other younger and smaller manatees in the enclosure managed to escape, Snooty was apparently too big to make his way out.
The museum had just celebrated Snooty's 69th birthday. The average life span of a manatee in the wild is 40 years.
Many Snooty fans expressed their shock and sadness at the manatee's sudden death. Twitter was filled with emotional farewells, and people left tributes of lettuce (Snooty's favorite snack) at the museum.
"I would much rather have a real Florida statue of a creature who was part of our community and delighted everyone he was around than a legacy of hatred and racism," wrote another.
Popular in the Community