Snooty, the world's oldest known captive manatee who lived at a South Florida aquarium for more than half a century, died on Sunday. He was 69.
Born in 1948, Snooty's arrival was the first ever recorded manatee birth in human care. He moved to the South Florida Museum in Bradenton in 1949, and saw more than 1 million visitors during his lifetime.
Snooty was dubbed the official mascot for Manatee County in 1979, and celebrated his 69th birthday on Saturday.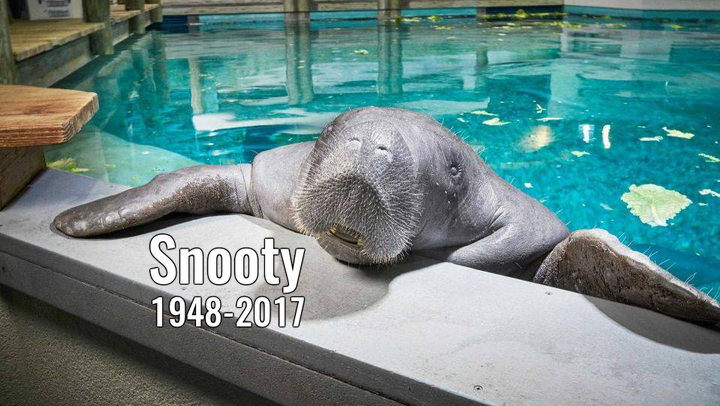 The museum, which houses the Parker Manatee Aquarium, said Snooty died after getting trapped in an underwater area of his exhibit. Jeff Rodgers, the museum's provost and chief operating officer, said Snooty was able to access an area of his exhibit that contained plumbing equipment after a hatch blocking it off "had somehow been knocked loose." Three smaller manatees were able to swim in and out of the "tight area," but Snooty swam in and became stuck.
Snooty was about twice the size of the other animals and weighed about 1,300 pounds, NPR reported.
"It took us some time to figure out how we were going to deal with that situation, but when we did finally get to Snooty he was no longer alive," Rodgers said, before appearing to tear up at a news conference. "We've been greeting people at the front door to share the heartbreaking news with them as they come in. ... Aquarium staff is heartbroken."
"We're all quite devastated about his passing," Brynne Anne Besio, the museum's CEO, said in a statement on Sunday. "We're reviewing what happened and will be conducting a full review of the circumstances. Snooty was such a unique animal and he had so much personality that people couldn't help but be drawn to him. As you can imagine, I ― and our staff, volunteers and board members ― considered him a star. We all deeply mourn his passing."
The aquarium will remain closed as the investigation continues. The manatee's veterinarian of 20 years will be conducting the necropsy.
Longtime fans of Snooty expressed their shock at the news of his death, saying the manatee was a local celebrity.
"It was a little bit surreal coming here first. We were waiting for it to open and then about five or six minutes before the museum opened a staff person walked out and breaks the news to all the kids and parents standing outside waiting to head on in," Josh Crotts told the Sarasota Herald Tribune. "It came as a shock to everybody, especially considering the timing."
Some museum patrons left memorials of lettuce and flowers at the institution's doors.
"Snooty's very important to this community, he's been with us for 68 years – generations have grown up with that manatee," Rodgers said. "The emotional outpourings that we've heard today, we grieve right along with these folks. We've given a lot of hugs on the front porch of the museum today as people were coming in. A lot of people loved that manatee. We loved him too."
Before You Go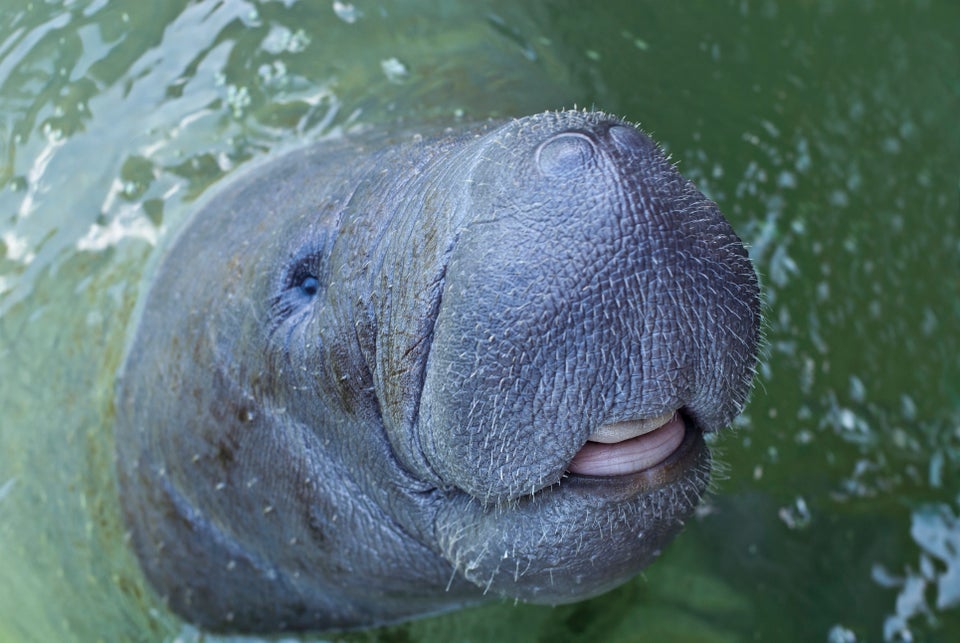 Marvelous Manatees
Popular in the Community