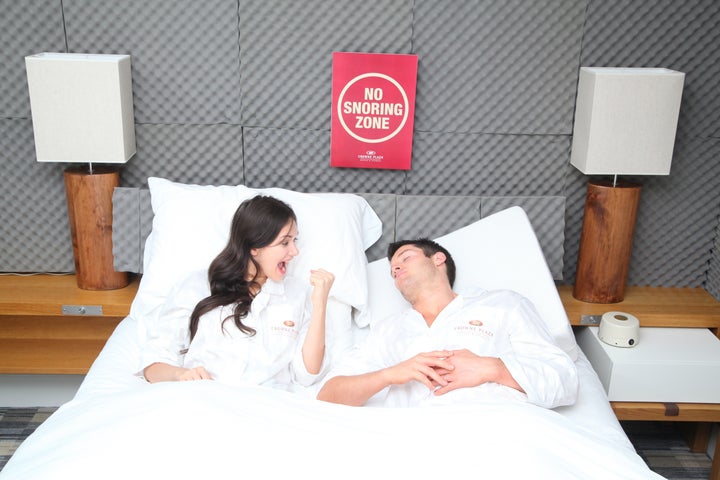 Does a snoring partner keep you from getting a good night's sleep on vacation? You could always try sleeping in a room that resembles a giant soundproof egg carton.
At least, that's the option Crowne Plaza hotels are giving to guests, with their new snore absorption rooms and snore monitors.
The snore absorption rooms are outfitted with all manner of sound-absorbing surfaces, including soundproof walls, a sound-absorbing headboard to muffle echo and a bed wedge that works like a body pillow so that snoring guests will sleep on their sides (and therefore be more silent), the InterContinental Hotels Group said. They also come with a white noise machine to help drown out the snoring sound.
And of course, an anti-snoring room wouldn't be complete without an anti-snoring pillow, which supposedly creates a natural magnetic field to stiffen the upper palate of the mouth that vibrates when a person is snoring.
The snore absorption rooms are on trial at 10 Crowne Plaza hotels in the Middle East and Europe, Reuters reported.
And if the trial is successful, the 204 Crowne Plaza hotels in the United States could also be outfitted with these snore absorption hotel rooms, Time reported.
Six Crowne Plaza hotels in Britain are also debuting snore monitors to walk the halls of hotel quiet zones, and inform guests if they are making too much noise. The quiet zones are also outfitted with volume-measuring equipment, ABC News reported.
"We have quiet zones on two floors of the hotel. As Snore Monitor, I conduct floor walks to check for noise disruptions, paying particular attention to the quiet zone rooms," Laura Simpson, Snore Monitor at Leeds Crowne Plaza hotel in England, told Reuters.
These rooms and snore monitor policies could be useful to a LOT of people -- a Centers for Disease Control and Prevention report shows that 48 percent of people say that they snored in the last 24 hours. And 50 to 70 million Americans have some sort of chronic sleep or wakefulness disorder.
Not staying in a Crowne Plaza? Simple lifestyle adjustments, such as trying a new sleep position or packing a second pillow, can reduce snoring on vacation, suggests HuffPost blogger David Volpi, M.D., in this post about reducing snoring on vacation.