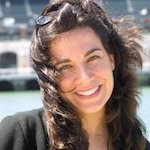 What do drones, Sir Patrick Stewart, and whales have in common? They're all part of a Kickstarter project aimed at launching a new way to study whales, and ultimately the health of the ocean. Ocean Alliance, in conjunction with Olin's College of Engineering Intelligent Vehicles Lab, has come up with a non-invasive way to monitor and collect data from whales using what they've cleverly named "SnotBot." And Stewart, a longtime supporter and trustee of Ocean Alliance, is helping spread the word.
With tens of thousands of whales being killed or injured annually, gathering data about their health is instrumental to understanding our impact on whales and their habitat. Whales are intertwined with the health of our oceans, and researching how environmental changes affect them is paramount. The current methods of collecting data are invasive and stressful for whales. Typically, a loud motorboat travels alongside a whale where a researcher shoots a sampling dart into its skin to collect data, which can make it unreliable.
The new research method proposed in the SnotBot Kickstarter campaign has been more than five years in the making. Students from Olin College of Engineering and Ocean Alliance have developed a drone that can hover in the air above a surfacing whale and collect the mammal's blow (aka "snot"). The drone transmits the data back to the researchers on a boat half a mile away. Additionally, the blow collected on the sponges attached to the SnotBot contains valuable information about the whale's health, including DNA, virus and bacterial levels, environmental toxins, and hormone levels.
Collecting the blow in this manner could provide more reliable data for researchers since it isn't retrieved through a procedure that causes undue stress on the whales. They've already created a testing float equipped with sensor and GoPro cameras to see what the whale would experience when a SnotBot flew by. So far, so good.
Using SnotBot drones to monitor whales is also less expensive than current methods. Still, the project needs funding. Contributors to the campaign will receive reports that outline the data collected on the expeditions. Those who sign-up for a basic whale adoption kit will also receive a Whales IMAX DVD narrated by Sir Patrick Stewart (some are even signed, but they are going fast). If that's not enough motivation to get on board, there are always these ten reasons.
Ocean Alliance plans to use SnotBots in three expeditions the group believes will provide a wealth of data to analyze immediately. If their campaign is successfully funded, they plan to study humpback whales in Alaska, sperm whales in the Sea of Cortez off Mexico, and endangered southern right whales off Patagonia.
This isn't the first time drones have been used to learn about what's happening with whales. Last year, the Vancouver Aquarium, NOAA, and Ariel Imaging Solutions used a custom-built hexacopter dubbed Mobly to take pictures of killer whales. Mobly successfully captured photos of 77 different whales swimming along the northeast coast of Vancouver Island. Scientists were able to see changes in body type, which is an indication of a whale's health. While it didn't collect the deep data that SnotBot hopes to achieve, using non-invasive ways to monitor and better understand whales in their environment is a step in the right direction.
Joni Blecher is a freelance writer who has spent her career covering tech and a myriad of lifestyle topics. When she's not writing, you can find her exploring the food scene in Portland, OR.