You might have heard by now about some snow that has befallen the heretofore well-known beach communities of Cape Cod and the islands. I live on one of these islands -- Martha's Vineyard.
We are recognized for a myriad of reasons, but one not very well-known is how people in this community support each other in times of need. Does this happen one hundred percent? No, but it happens so often and in such unexpected ways that living here makes life even more cherished.

One such person on this small island stage who is contributing to the safety and health of others is someone I call "Snow Angel." She is Kristen Tidmarsh Araujo. She owns a hair salon in Edgartown named Shear Inspiration. I, amongst many others, got to know of her when she volunteered during the first snowstorm to help people who were in emergencies. She refused all payment. She had a dependable truck and wanted to do this. She named her truck Storm Trooper. Winds reached as high as 80 mph during that first storm. She posted her offer online at a local site and got a lot of responses. Soon, she was exhausted, working 23-hour shifts. She ferried nurses and staff to and from the hospital. Looked after elderly people whose neighbors beseeched her to check in on them. One 93-year-old woman was so grateful that she told our snow angel that this was the best storm ever, because she had met such a beautiful human being who truly cared about her -- Snow Angel.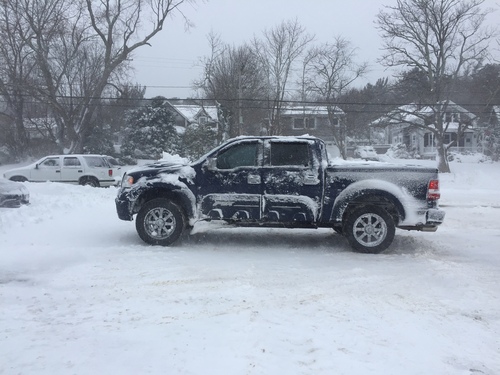 Storm Trooper: Photo by Kristen Tidmarsh Araujo, used with permission
When you meet Kristen you are immediately struck by her intense, bright energy that is continuously pouring out of her. She emits a light so powerful you can get a tan just by being in her presence. She describes herself as an average person living her life with integrity and love. She decided at a very young age that it was her obligation to give back to the world all of the blessings that had been bestowed upon her. She told me of her first large-scale adventure helping others. Right after Hurricane Sandy, she was speaking with her children about how they may be able to help people devastated by the storm. They decided they would bring supplies down to New York City that people could use. So they collected, bought, and solicited gear to be hauled down to New York. They filled their very large van with mops, buckets, Tyvex suits, gloves, cleaning supplies, paper towels, infant formula, feminine toiletries, deodorant, shampoo, toilet paper, pounds of nonperishable food and military meals. They also had fresh water, Gatorade, winter jackets, boots and sweatshirts. The Red Cross had nothing on Kristen's family that season. She told me that the van was riding low the entire trip.
Neither she or any member of her family had ever been to New York, but with their GPS they found their way to a distribution point in Red Hook, Brooklyn. I am a native New Yorker and I can tell you that there are probably millions of born and bred New Yorkers who couldn't find Red Hook even with a GPS, although that is changing recently due to inevitable gentrification. I did not want to tell Kristen that if she had done this just five years previously, they would have been walking in a desolate, somewhat dangerous area. Upon arriving, they discharged their gifts and even helped with their distribution.
Another instance happened when UPS had not yet delivered their gifts one Christmas Eve during a snowstorm. She went to the UPS distribution office on the island and waited on line in the freezing cold to look in the warehouse for their delivery. At one point one of the dispatchers told her that the reason they could not deliver that evening was because their trucks did not have 4-wheel drive. She replied instantly saying that her truck was so equipped and if he had the addresses, she could deliver the gifts with him. Without hesitation, he said yes and that Christmas Eve Kristen was Mrs. Claus. Snow Angel with a GPS.
There are several examples of this delightful woman's extraordinary efforts to help others. This winter has been one of the worse in memory. Some people live in houses that aren't quite up to the task of doing well in this weather. There are many who are homeless. I pray they found shelter.
Kristen's greatest accomplishment has been to light a fire under others by her example. Just the other day someone posted that her elderly neighbor needed to be plowed out so she may leave her house. The person said she would exchange house cleaning if someone would come over and do the necessary work. When the neighbor awoke the next morning, the house was clear of snow so that the senior citizen living there could walk outside. The neighbor was so grateful for this kind act that she immediately went online to ask who it was that did it, as they didn't leave any calling card. She wanted to complete the proposed arrangement. The gentleman who had come over with his plow identified himself and said no need to be paid with barter or otherwise; that it was free of charge.
And so it goes. I do not wish to paint a rosier picture of this island than exists. We have our share of problems and they are serious. Homelessness, hunger, and drug abuse are just three of many. And not everybody is nice. But when I speak with friends and note their despair about the state of the planet I remind them that we are not inherently evil doers as some would conclude during these very dark times when heads are literally rolling; the results of a distortion of faith. I ask them to just observe their own backyard where so many people do come together in loving ways during treacherous times. When confronted with society's dark vision of life, look into a baby's eyes. After doing that, can anyone truly believe that we are a malevolent species? We are all infants. We have the potential to become a snow angel no matter our station in life because that's truly who we are.
And so, here's to you Kristen (le chaim!), and to so many others who have revealed to this old man light beyond time and space. Thank you.
REAL LIFE. REAL NEWS. REAL VOICES.
Help us tell more of the stories that matter from voices that too often remain unheard.