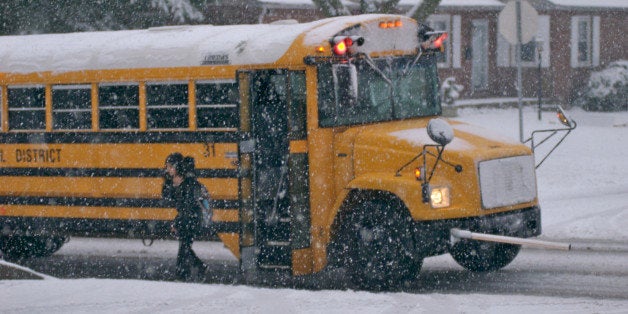 Students, parents and administrators often make a fuss about snow days, but it's really individual absences that affect learning, according to a new study.
School closings for snow "have no effect at all on student achievement for the sample as a whole, in either math or [English language arts]," Joshua Goodman, a professor at Harvard University's Kennedy School of Government, observed in the report. He used data from Massachusetts school districts between 2003 and 2010 as well as snowfall data from the National Oceanic and Atmospheric Administration.
On the other hand, Goodman observed a drop in test scores among schools where students stayed home while classes were in session. When some students miss school, their schools' math scores on standardized tests fall by up to 5 percent of a standard deviation. For low-income Massachusetts students, that drop makes up approximately 6 percent of the math performance gap.
The data showed that low-income students were typically absent three days more than other students every year. Those extra absences could account for up to one-quarter of the income-based achievement gap in Massachusetts, Goodman suggests.
"A single day of absence has a noticeable but not large affect on kids' learning. The issue is that kids are absent for eight, nine, 10 days on average in one year, and that adds up," Goodman told The Huffington Post. "There's some kind of absences that can't be avoided, but it's almost certainly the case that parents and schools could help some students improve their attendance rates."
Unofficial days off affect more than just the student staying at home.
"When your classmates are absent, that could affect you as well," Goodman said. Teachers spend time catching up students after they miss a day of class, which takes learning time away from the entire classroom. Because of this, the report suggests, schools' test scores would theoretically be higher if they closed during heavily snowy days.
However, Goodman does not recommend shutting down schools every time snow hits the streets.
"If all we cared about were test scores, then superintendents should call more snow days," Goodman said, "but the other considerations probably outweigh the relatively small change in test scores."
These other considerations include important unacademic services schools provide, such as meals and child care.
Goodman said he hopes this study will help parents and administrators focus on the attendance rates of individual students rather than on how many snow days a school takes.
"In some sense, the more important finding is that people pay much less attention to this subtle but more widespread loss of instructional time that comes with student absences," Goodman said.
Popular in the Community