DENVER, Feb 20 (Reuters) - The leading edge of a large, powerful winter storm descended on the western United States on Wednesday, dropping snow as far south as Tucson, Arizona, and snarling evening rush-hour traffic in Denver.
A rare snowfall sweeping the southeastern corner of Arizona blanketed the saguaro cactus-studded high desert with several inches of white stuff, leading the Professional Golfers' Association to cancel play at a tournament near Tucson.
"I don't think I have (ever seen anything like this), to be honest," competitor Ian Poulter said of the first-round interruption of the World Golf Championships-Accenture Match Play tournament.
"It's absolutely remarkable to think one minute we're playing golf, albeit it's a little cool, and then within a space of 25 minutes, it turns from playable to cold drizzle to sleet and to snow. And within an hour and a half of all that starting, you've got 2 inches of snow plus on the ground. It's just bizarre."
Play at the course in Marana, Arizona, was expected to resume on Thursday.
The Tucson area, a popular winter refuge for "snow bird" residents of northern U.S. states and Canada, rarely gets snow.
But a winter storm warning in effect through 11 p.m. local time called for up to 7 inches of snow in low-lying areas of Tucson, with up to 19 inches predicted for elevations above 7,000 feet. Wind gusts of up to 40 miles per hour were forecast.
Up to 10 inches of snow also fell early on Wednesday in the mountains of San Diego County, California, with lighter dustings reported in high desert and inland valley areas.
There were no reports of airline flight cancellations or major traffic accidents as of Wednesday afternoon.
Snow began falling in Denver by mid-afternoon, and 2 inches had accumulated by the start of the evening commute, with bridges and overpasses icing up, said Mindy Crane, spokeswoman for the Colorado Department of Transportation.

Crane said 4 to 8 inches of snow were forecast for the Denver metropolitan area by the time the storm moves east, but no roads had been closed as of nightfall.
Snowplows were stationed throughout Colorado should heavy accumulations mount, she said.
The heaviest snowfall was forecast to hit the High Plains of eastern Colorado in the evening and overnight hours before sweeping into Nebraska and Kansas, according to the National Weather Service.
Between 5 and 6 inches of snow was measured in parts of western Kansas by early Wednesday evening, packed down on road surfaces by winds of up to 30 mph, said Michael Scott, a weather service meteorologist in Dodge City.
"Areas of blowing and drifting snow will cause hazardous driving conditions," the weather service warned. Scott said an additional foot of snow could fall overnight in a second band of precipitation moving up from Arizona and New Mexico.
"It's definitely going to pack a punch for this area," he said.
In anticipation of the storm, Kansas Governor Sam Brownback announced that state offices would be closed on Thursday.
The snow is good news for the drought-stricken region of eastern Colorado, said Bob Koopmeiners, a meteorologist with the National Weather Service.
"The more it snows, the better," he said. (Writing by Keith Coffman; Additional reporting by Tim Gaynor and Kevin Murphy; Editing by Steve Gorman and Philip Barbara)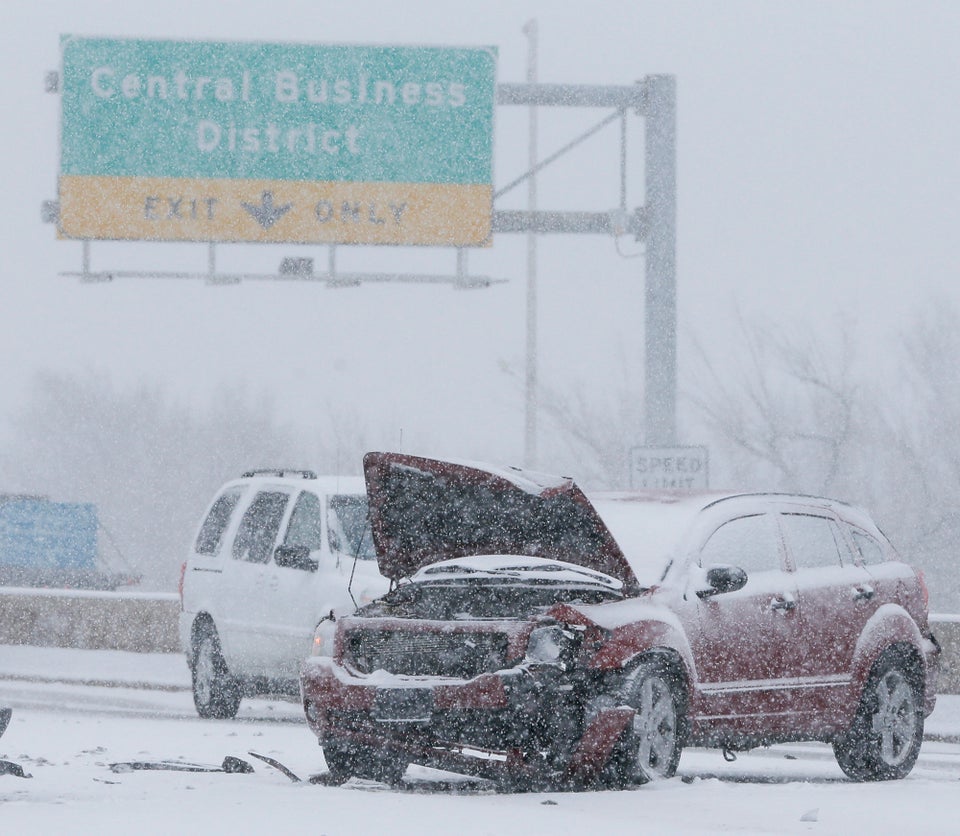 Winter Storm 'Q'