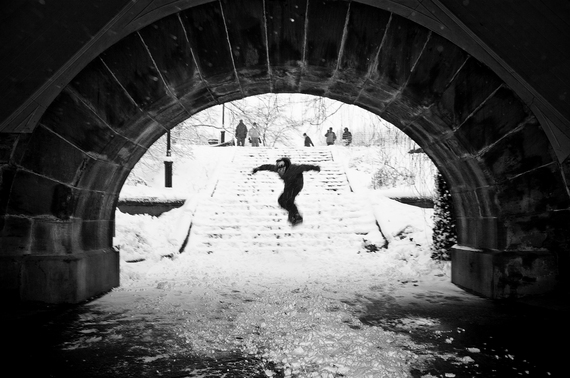 "Remember that you were a slave in the land of Egypt, and the Lord your God brought you out from there with a mighty hand and an outstretched arm; therefore the Lord your God commanded you to keep the Sabbath day." (Deuteronomy 5:15)
Mother Nature certainly has a sense of humor. Throughout the fall and into December we experienced much warmer weather than normal. Now, the temperatures have plummeted, and an "epic" blizzard is hurtling toward the mid-Atlantic.
With their many forecasts and live outdoor reports, news anchors and meteorologists alike are downright giddy in their coverage of the storm. They love every minute of it!
Children will stay home from school and race down hills on their sleds. Harried parents will prepare cups of hot chocolate with telling grins on their faces. Dentist appointments will be rescheduled, driveways will shoveled, and church activities will be delayed. Milk and bread will disappear from the shelves of Acme and Wal-Mart.
This weekend is delightfully disruptive. The storm interferes with our plans, delays travel and cancels meetings.
Therein lies the disruption, and oddly enough, therein also lies a surprising word of hope.
In the Judeo-Christian tradition, we observe a regular respite called Sabbath. After six days of creating light, land, ferns, bumble bees, catfish and humans, God rested. God rested, and so, too, do we.
But that is not the only reason we observe the Sabbath.
The Sabbath also summons us to remember God's emancipation of the Hebrews from Egyptian tyranny. It celebrates liberation, a release from all the powers and institutions of the world that threaten to enslave us. The Sabbath is subtly subversive. It breaks the regular routines of our lives and reminds us that God seeks to break the oppressive rhythms of poverty, addiction, violence, greed and corruption.
I am reminded of the story of Jan, a woman with three beautiful sons. Every Sunday she and her family sat on the back pew. Their faces glowed with warmth. Their faces also concealed a horrible secret.
Jan's husband verbally and emotionally abused her. Pointing a pistol at her, he even threatened to end her life. Though not visible, her wounds cut deep into her heart.
Sunday after Sunday, Jan and her children sat on the back pew, and in hushed whispers we wondered how we could help her.
Several women began to meet with Jan. Week after week, they listened to her. Week after week, they challenged her. Week after week, they prayed with her.
They helped Jan to name her pain and to cultivate a vision of life free of the bonds of affliction.
Sadly, many women silently endure abuse for many years. I don't know how Jan did it, but eventually Jan mustered up the courage and self-confidence to leave her husband. Their divorce a couple of years later was actually amicable.
Jan's story is not neat and tidy. Very little of human life is. Her journey toward the promised land of freedom has taken a couple of detours into the wilderness of chaos.
Still, through the comfort and counsel of several strong and compassionate women, Jan did find a way out of Egypt. The cycle of abuse was broken.
Whenever peace subdues violence, whenever a hungry child enjoys a bite of bread, whenever a homeless family finds shelter, whenever an alcoholic discovers sobriety, whenever an addict turns from crack, whenever a corrupt financier is convicted, whenever nations turn their tanks into tractors, we witness the redemptive power of Sabbath.
So enjoy the snow! Stay safe, and keep warm. But remember...while Mother Nature has a sense of humor, God has a sense of justice.
Calling all HuffPost superfans!
Sign up for membership to become a founding member and help shape HuffPost's next chapter