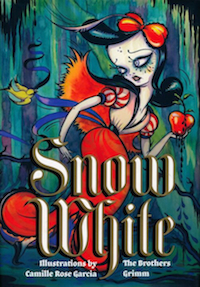 We all know Disney's version of Snow White, but the classic fairy tale that inspired the 1937 animated feature film is much more grim -- literally. As recorded by the Brothers Grimm, the original story involves a bloody boar's heart, an apple-induced coma, and other nightmarish tidbits, all promising generations of children around the world many, many sleepless nights. Naturally, Disney edited some of those details for Depression-era kids, whose real-life challenges were horrible enough. We've had countless adaptations since, from the likes of the Three Stooges and the Hallmark channel to the porn, music, and video-game industries. Nowadays, there's Mirror, Mirror, the 3D film starring Julia Roberts as the Evil Queen, and Snow White and the Huntsman, featuring Kristen Stewart, Charlize Theron, Bob Hoskins, and Eddie Izzard.
While the Walt Disney Company's application for the name Snow White is pending in the US Patent and Trademark Office, artists continue to interpret the beloved piece of 17th century European folklore, including Camille Rose Garcia. Her new watercolor series is a visual narrative that recalls Disney's eponymous heroine, while also remaining true to the Brothers Grimm.
Michael Kohn Gallery exhibits Camille Rose Garcia's original paintings in Snow White: The Complete Works on Paper. But you don't have to live in Los Angeles to check out the show, because HarperCollins has come out with a related publication, featuring art by Camille Rose Garcia and text by the Brothers Grimm. We've also got a few images right here, with commentary by the artist herself. See more pictures and a video over on Pop Curious.
PHOTO GALLERY
Camille Rose Garcia: Snow White
Calling all HuffPost superfans!
Sign up for membership to become a founding member and help shape HuffPost's next chapter