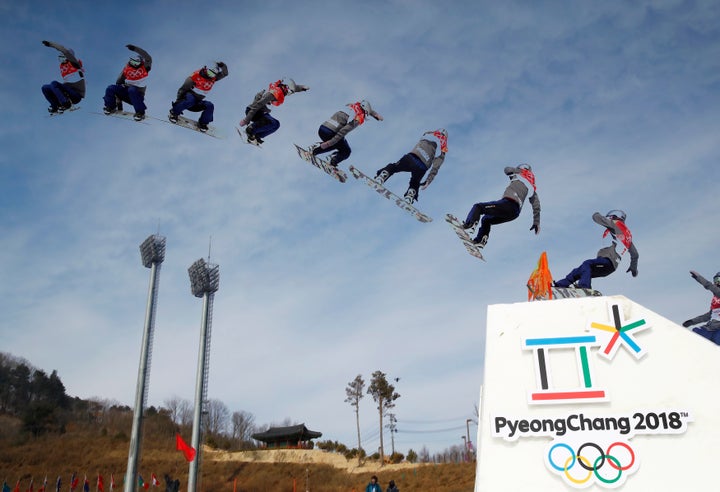 A new event debuted at the 2018 Winter Olympics, and it's filled with all of the most spectacular parts of the Games.
Big jumps, incredible skill, high-flying acrobatics and the ever-present danger of massive crashes and catastrophe ― snowboard big air is an absolute adrenaline rush.
There's already been a number of snowboarding events at the Winter Olympics, with Team USA's Red Gerard and Jamie Anderson medaling in slopestyle, and Chloe Kim and Shaun White winning the halfpipe events. Big air, while already a highlight of the X Games, is a new addition to the Winter Olympics, making its debut in Pyeongchang, South Korea.
The event consists of one massive jump, with competitors starting at the top of an 160-foot ramp before hurtling down and trying to land their most spectacular trick. With such an enormous ramp ― in Pyeongchang, they need an elevator to get to the top of the jump ― the boarders manage some serious air time, throwing down multiple flips and spins as they leap up to 100 feet in the air.
Snowboard big air debuted at the Winter Olympics on Monday with the women's qualification rounds. Each competitor gets two jumps, and judges score their tricks. Riders advance based on their single best score. Slopestyle gold medallist Jamie Anderson scored 90 points, placing her sixth in the 26-woman field, while Japanese riders Yuka Fujimori and Reira Iwabuchi and Canada's Laurie Blouin also impressed. Austrian world champion Anna Gasser blitzed the competition however, scoring an incredible 98 points.
"I was so excited when big air was added to the Olympics," Gasser told ESPN. "People are going to like it because it's spectacular and exciting."
The first qualification round delivered everything expected, from incredible flips, unbelievable landings and even some crashes. Australian rider Jess Rich is competing after rupturing the anterior cruciate ligament in her knee ― usually a debilitating and season-ending injury for any athlete ― just a month ago.
Check out some footage from the event's debut in Pyeongchang below, and tune in for the men's qualifying on Wednesday, the women's final on Friday, and the men's final on Saturday.
REAL LIFE. REAL NEWS. REAL VOICES.
Help us tell more of the stories that matter from voices that too often remain unheard.