Three weeks ago, a new food truck joined the ranks of New York's mobile eateries. But instead of simply dishing out yet another novel culinary creation, this truck held the promise of something deeper.
Parked on the sidewalk in Manhattan's Union Square, the truck's gray metal paneling mirrored another somber, overcast sky in a city long overdue for spring sunlight. On the driver's side, a snowflake design made out of strips of burnished wood spiraled around the truck's name, "Snowday." On the other side, a team of workers shuttled stuffed pancake poppers -- small, fried dough balls -- between the truck's serving window and a tent with tables set up for free samples.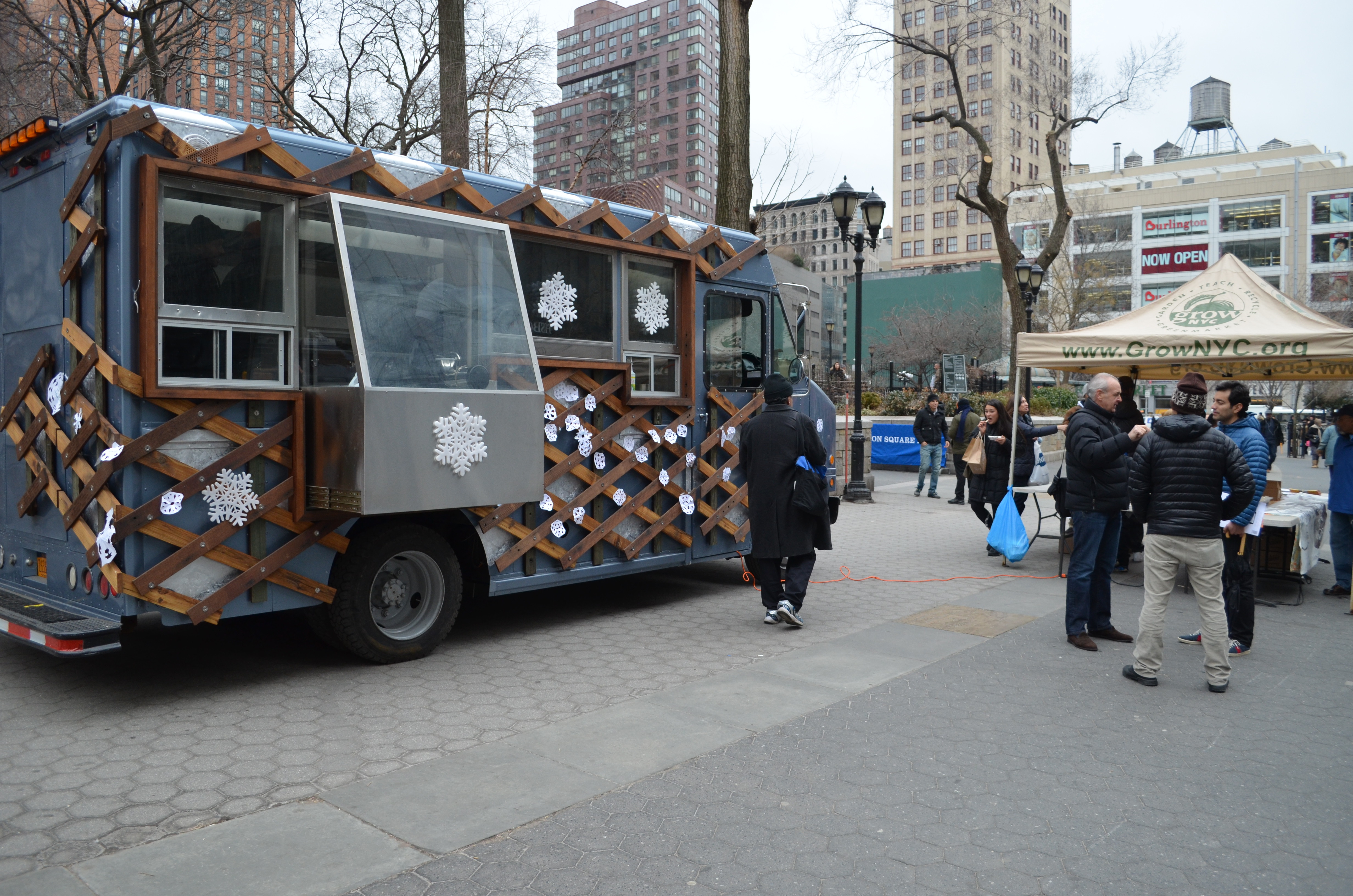 The "Snowday" truck in Union Square.
Five of the seven young men helping prepare and serve the food had an extra reason to be in good spirits -- besides the smell of kale pesto, brie and warm maple syrup on a cold day. They'd beat the odds and found gainful employment after having been incarcerated as teens.
Overseeing it all was Jordyn Lexton, a young and energetic teacher-turned-social-entrepreneur who is the founder and operator of Snowday and its umbrella nonprofit, Drive Change. By this fall, Lexton hopes to have an eight-month re-entry program operating in tandem with the food truck. Sales from the truck will be recycled back into the program, Lexton said, creating a self-sustaining system that employs previously incarcerated young people and helps them return to society.
One of the young men, Frederick Coleman, 27, handed out informational sheets about the truck and fielded questions from curious customers. "I'm very excited about being able to work with Jordyn and the cause," Coleman said. "I love food, and I enjoy cooking and being with these guys."
The truck's Union Square debut was a "soft launch," designed to get the word out about the enterprise and give New Yorkers a taste of things to come. It also marked the end of a long journey undertaken by Lexton -- a journey that started in a place where dreams aren't born, but instead, where many come to an end.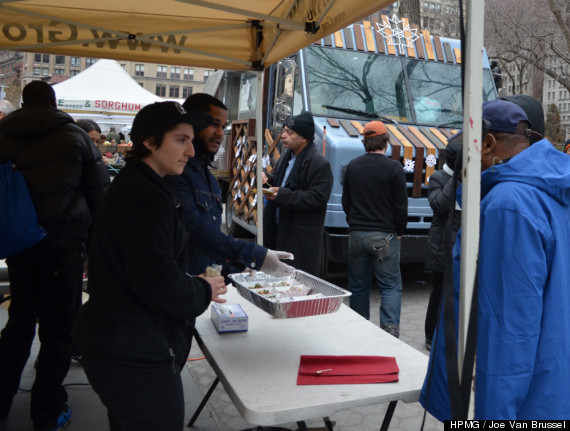 Jordyn Lexton (left) and Jaquial Jackson (behind, right) serve stuffed pancake poppers to passers by.
Two years ago, Lexton was teaching High School English to incarcerated teens on Rikers Island.
Lexton and her class of 16- to 18-year-olds were in an overflow trailer set up as part of a large, concrete detention center near the island's southern entrance that holds youth awaiting trial. They were reading Langston Hughes' poem, "A Dream Deferred," when a student raised his hand and asked Lexton if she thought he could become an architect. She responded that while it would be difficult, if he set his mind to it and worked hard he could absolutely become an architect.
A student seated near the back of the room challenged her, Lexton recalled. "This kid who had slept through the first half of class suddenly perked up," she said. "'Oh hell no. No way,' he said. 'I appreciate what you're trying to do, but you're selling dreams.'"
It was a transformative moment for the then-25-year-old teacher from New York. She realized he was right.
During her three years teaching young people on Rikers, Lexton said, she watched as student after student cycled in and out of the correctional system, despite the "desire, potential, and capacity to change."
New York is one of only two states that prosecute 16- and 17-year-olds as adults (North Carolina is the other), so many of Lexton's students left Rikers with felonies, greatly limiting future employment opportunities. "Even with the willingness to make better decisions, their options are so limited," she said. "To really take care of themselves and stay out of jail, what they need is a legitimate source of money." A security fence surrounds the inmate housing on New York's Rikers Island correctional facility in New York.

Efforts to change the current system have been underway for several years, and the issue has received national attention as a regressive correctional policy. Studies show that minors transferred to adult prisons have approximately 34 percent more re-arrests for felony crimes than youth retained in the youth justice system. Additionally, "some 80 percent of juveniles released from adult facilities will reoffend, and they are likely to reoffend more quickly and with more serious crimes" than their counterparts housed in juvenile facilities, according to a 2013 study commissioned by the National Campaign to Reform State Juvenile Justice Systems.
The seemingly intractable problem pushed Lexton to seek "a direct pathway to a better future" for the kids, she explained. So in 2012, with the accusation of peddling dreams echoing in her head, she decided to leave teaching to forge that missing path.
She was aided in her exploration by two past experiences -- one on a Canadian mountain and the other from her time on Rikers Island.
In 2011, while she and her family were skiing in Mont-Tremblant, Quebec, Lexton witnessed a peculiar ritual. Several trucks pulled up to the base of the mountain and unloaded huge cauldrons full of maple syrup. The local maple farmers began pouring long strips of boiling syrup over 30-foot-long mounds of freshly packed snow and then twisted the hardened, sticky concoction on small wooden spoons to serve to the gathering crowd.
A lifetime traveler and food enthusiast, Lexton was struck by the simplicity and elemental appeal of the unique treat, dubbed "Sugar on Snow." "It was pure, simple, and awesome -- like trees and water," she said.
Lexton was also inspired by something she'd witnessed while on Rikers -- a culinary arts program that managed to inculcate "discipline, structure, and focus" in its students. The course taught kitchen and food preparation skills to inmates, preparing them for jobs in the food industry. "I remember this amazing sense of pride the kids felt when they saw the food they cooked themselves," she said.
With both experiences in mind, the answer suddenly crystalized: a food truck.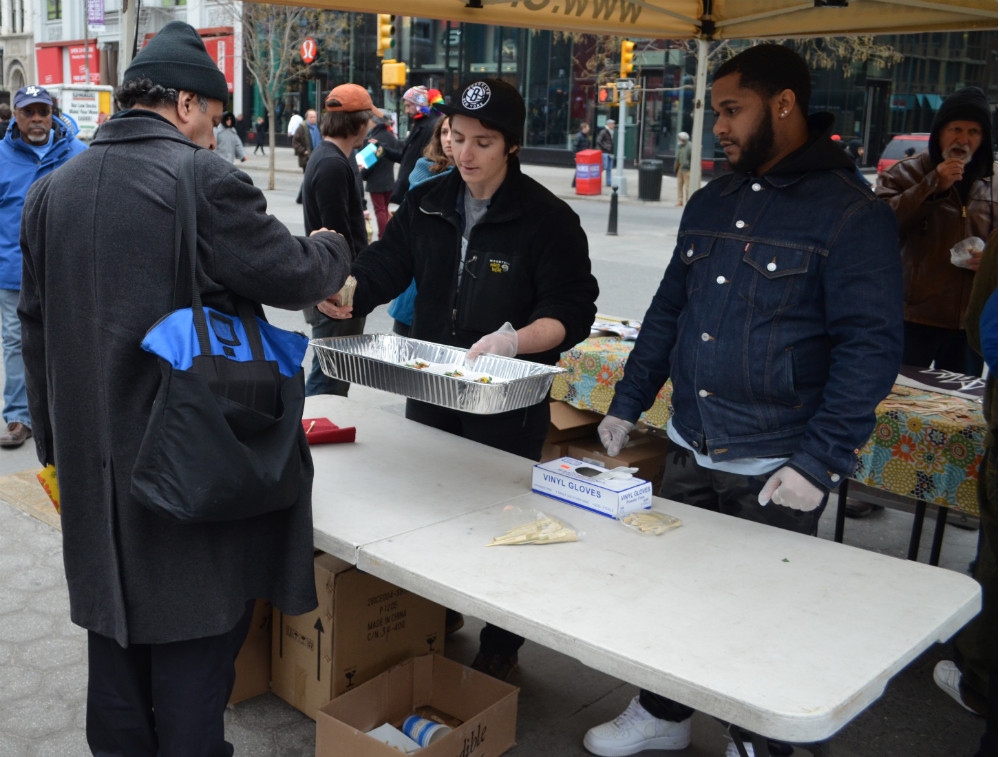 Serving samples in Union Square.
Unlike other sectors where a criminal past can haunt job applicants from interview to interview, the food industry is one where "your background isn't really going to block access," Lexton explained. "If someone is a hard worker, showing creativity and spirit in the kitchen, people are less focused on where they're coming from."
It was the perfect fit -- an industry open to those with checkered pasts and one that tapped into her passion for food.
To fine-tune her plan and learn the ropes of the food truck world, Lexton spent the next two years working stints on a Kimchi taco truck and at a number of re-entry programs. She also networked widely, connecting with others in the food truck community and working for organizations like the Correctional Association of New York.
Her efforts came to fruition three weeks ago at the GrowNYC farmer's market in Union Square, when Drive Change unveiled the first in what she hopes will become a fleet of food trucks. The Snowday food truck features maple syrup-themed dishes, and its menu includes maple bacon brussels sprouts, maple grilled cheese, maple pulled pork sliders, and of course, "Sugar on Snow" pops, among other syrup-focused fare.
Lexton's optimism during the launch was shared by the Snowday staff, who moved through their tasks with more than the usual degree of alacrity. As he handed the stack of promotional handouts to a colleague to pick up a tray of ham and gruyere poppers, Coleman reflected on his past experience and current position. "I know what it's like to be in a cell," he said. "It's more fun to be doing what I'm doing."