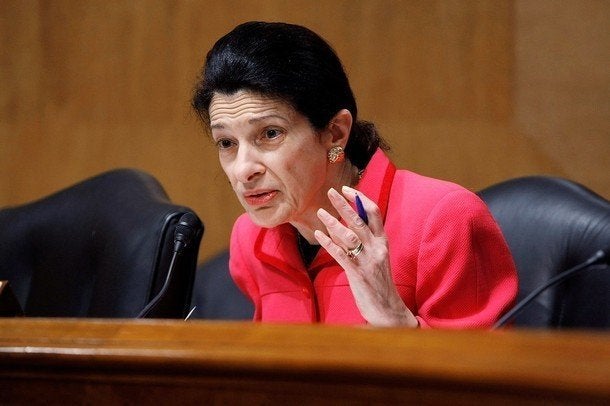 The Senate Finance Committee will not include a public option in its health care bill, one of the key Republican negotiators said on Friday -- to which the White House responded, with a shrug: "That's democracy."
Sen. Olympia Snowe, (R-Maine), told MSNBC that the proposal to offer consumers a government-run alternative to private insurance providers would not be endorsed by the "Gang of Six". It is that group of three Democratic and Republican Senators on the Finance Committee that has been vested by the White House with the task of reaching a bipartisan compromise.
"We have not had the public option on the table," Snowe said. "It's been co-ops and addressing affordability and availability of plans through the exchange and that's -- those are the challenges we're wrestling with -- to ensure that there are affordable, basic plans to offer Americans."
The remarks would seem like a blow to President Obama's avowed preference for a public option as a means for expanding coverage and lowering costs in the health care system. But the administration has also spent the past few weeks sending profoundly mixed signals on its devotion to such a provision. And when pressed for a reaction to Snowe's declaration, Deputy Press Secretary Bill Burton provided a non-nonplussed response.
"Well, that's democracy, isn't it?" Burton said. "You've got folks who come from all different spectrums who are trying to get something done and we appreciate that Senator Snowe has been such a leader on health care and has been working hard to find a bipartisan solution to get healthcare reform done. We're going to continue to work with her and Republicans in the Senate and Democrats and House Democrats and Republicans and try to make some progress here.
"Look, on the public option, the President has said over and over again that his goal here is to offer some more choices to bring costs down and to have more competition," Burton added. "The best way to do that he thinks is through the public option. If there's a better idea, he's certainly willing to listen to it. But you know we're still talking with folks on both sides of the aisle."
UPDATE: My colleague Ryan Grim reports: Snowe met Tuesday with business representatives and lobbyists from her state and said that the Finance Committees plan would not include a public option, according to a meeting participant who took notes and passed them on to the Huffington Post.
The committee bill, she told the group, was being scrubbed of controversial items.
Snowe met with Robert Bixby, executive director of the Concord Coalition; Clifford Mohr, president of Group Dynamic Inc.; Greg Dugal, executive director of the Maine Innkeepers Association; Tarren Bragdon, CEO of the Maine Heritage Policy Center; Dean Powers, director of the Maine Small Business Coalition; Richard Grotton, CEO of the Maine Restaurant Association; David Spellman, President of the Pratt Financial Group; and several other lobbyists.
She quizzed the bunch on what they thought of the proposal to mandate that individuals purchase health insurance. She added that she was considering requiring business with more than 50 employees to pay 100 percent of the cost of subsidies for their employees' health insurance.
Small business representatives told Snowe that they were opposed to any mandates that came without a public option and that such an alternative was desperately needed for small business, which can't afford the rising cost of health insurance for their employees. The costs make them unable to compete on a level playing field with bigger companies, which can use their size to leverage lower prices. Lobbyists representing larger corporations took the opposite position.
The heart of the Finance Committee's bill, Snowe said, is regulation that would force health insurers to offer, at an affordable price, a minimum standard of coverage -- a so-called "bronze" plan.
Popular in the Community