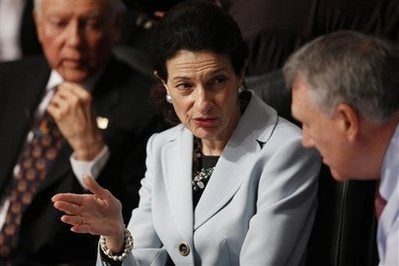 Sen. Olympia Snowe (R-Maine) said Tuesday that she intends to vote for the Senate Finance Committee's health care reform package. She cautioned that her vote should be seen as a sign of her faith in the process going forward, not as support for the final package that will arrive on the Senate floor.
"Is this bill all that I would want? Far from it," said Snowe. "Is it all that it can be? No. But when history calls, history calls, and I happen to think that the consequences of inaction dictate the urgency of Congress to take every opportunity to demonstrate its capacity to solve the monumental issues of our time."
Snowe's statement came several hours before a scheduled committee vote.
"My vote today is my vote today. It doesn't forecast what my vote will be tomorrow," she said. It does keep her at the negotiating table and at the center of the debate; Snowe risked marginalizing herself if she voted no.
Snowe is well aware of the math. Her vote, she said, comes with knowledge that Democrats don't need Republicans to pass the landmark legislation.
"The majority has the votes. It has the votes in the House. It has the votes in the Senate. So it shouldn't be about the mathematics of vote-counting, but rather the mechanics of getting the best policy," she said.
Committee Chairman Max Baucus (D-Mont.) was thrilled at the news, complimenting Snowe for her "very thoughtful statement. It'll be well remembered and I thank you for it."
Sen. Bill Nelson (D-Fla.), also a finance committee member, said that Snowe's vote bodes well for final passage. "It sets the stage," he said on MSNBC. "Susan Collins will likely come with her fellow Maine senator when this bill hits the floor."
Snowe said she would continue to insist that no "arbitrary deadlines" be set for final passage.
Democrats hold a 13-10 advantage on the committee. Once the bill officially moves through the panel, Senate Majority Leader Harry Reid will huddle with Senate leaders to merge the proposal with a more generous version that the health committee passed earlier this year.
Reid hopes to maintain Snowe's support, which she threatened to withhold if she disagreed too strongly with Reid's merged bill. Reid will need 60 votes for a motion to proceed to consider that final version. Democrats have a caucus of 60 members, but Sen. Bob Byrd's (D-W.Va.) health makes him less than a guaranteed vote.
"It's nice to see this kind of courage in light of an increasing partisan environment where the Republican leadership is dead set against doing anything," said Jim Manley, senior communications adviser to Reid.
If the 60-vote threshold turns out to be too high, Democrats can use a parliamentary maneuver known as budget reconciliation to move the package through with a simple majority.
Even if Reid goes the reconciliation route, the package is stuffed full of GOP ideas -- a point Snowe conceded Tuesday in declaring her support. "The legislation before us also produces some landmark bipartisan reforms," she said.
Jeff Muskus and Sam Stein contributed reporting.
Calling all HuffPost superfans!
Sign up for membership to become a founding member and help shape HuffPost's next chapter