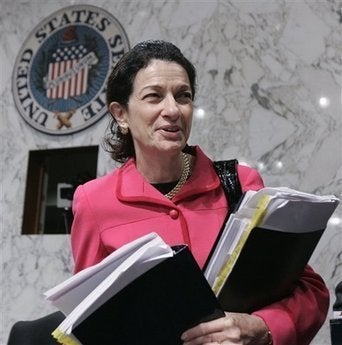 Sen. Olympia Snowe (R-Maine), the most likely Republican vote for the Democratic health care bill, told reporters Thursday that she would not vote to break a GOP filibuster if the bill put forth by Senate Majority Leader Harry Reid (D-Nev.) contains a public option.
"Would [inclusion of a public option] be enough for you to vote against the cloture motion?" a reporter asked Snowe on her way off the Senate floor Thursday afternoon.
"On the public option? I'd say I'm against a public option, so yes," Snowe said.
"But would it be enough for you to say, 'I'm not going to proceed to this bill?'" the reporter pressed. Snowe nodded on her way into the elevator.
Snowe said she also opposes the opt-out version of the public plan, which would allow individual states to remove their residents from the federal exchange. "I don't support that," she said.
Reid is still working with Finance Committee Chairman Max Baucus (D-Mont.) and health committee Chairman Chris Dodd (D-Conn.), along with representatives from the White House, to meld the finance and health bills into one.
Snowe's was the lone Republican vote for the bill in the Finance Committee, where it contained no public option. On the Senate floor, Snowe's vote alone might not make the difference. But besides the bipartisan veneer that her "aye" could offer a unified Senate bill, Snowe confirmed that she is in talks with conservative Senate Democrats like Ben Nelson of Nebraska. Should they present a united front, the public option would have a weaker chance of passage in the Senate.
Popular in the Community