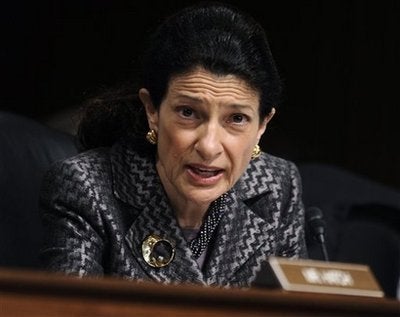 A new poll from Democracy Corps reveals that Sen. Olympia Snowe's (R-Maine) constituents support President Obama's sweeping health care plan.
Democracy Corps' survey comes one day after Snowe voted against two separate public option amendments to proposed health care legislation, introduced by Senators Jay Rockefeller (D-W.V.) and Chuck Schumer (D-N.Y.), respectively. While Snowe currently maintains broad support in her home state, Democracy Corps found:
A Snowe vote against health insurance reform results in Mainers evenly divided on whether she should be re-elected, while support for Obama's plan produces 53 percent who want to re-elect Snowe compared to 38 percent who want someone new as U.S. Senator.
Also significant is Democracy Corps' finding that an overwhelming majority of Mainers support a government-sponsored non-profit health insurance option, by a conspicuous 63 to 27 percent.
Snowe has been a key figure in the country's ongoing health care debate, considered by many as the "make-or-break" vote in the larger effort to achieve health reform. Democracy Corps' poll suggests that the Snowe's role in health care proceedings may not only determine the outcome of health care reform efforts, but perhaps also her own political fate.
Calling all HuffPost superfans!
Sign up for membership to become a founding member and help shape HuffPost's next chapter