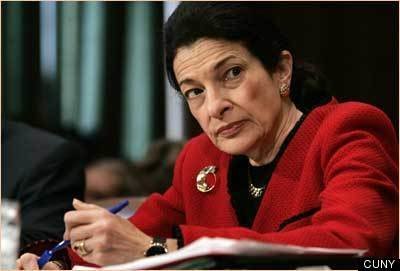 The Senate Republican who is front and center in the health care debate has received more than $1 million in campaign contributions from the health care industry. Her staff, too, has ties to some of the biggest players in the private insurance, with major stakes in the reform effort.
Sen. Olympia Snowe is shaping up to be the key vote on one of the most contentious issues in the forthcoming attempt to overhaul the health care system: Whether or not to support a public plan for insurance coverage. The Maine Republican was the only GOP member of the Senate Finance Committee not to sign a letter sent to the White House this week opposing such a proposal. At the same time, she has been a major force in pushing for a public option with a trigger, a system largely supported by private providers.
"Under Snowe's proposal," wrote former Labor Secretary Robert Reich, "the public option would kick in years from now, but it would be triggered only if insurance companies fail to bring down healthcare costs and expand coverage in the meantime."
Once again an influential swing-vote in a major legislative battle, Snowe undoubtedly finds herself being lobbied by ideological and professional interests from all quarters. And on this front, good government groups and progressive activists worry that the private sector may have a leg up.
That's because over the course of her career Snowe has received more than $400,000 in campaign contributions from the insurance industry; more than $400,000 in donations from "health professionals;" more than $135,000 in contributions from hospitals and nursing homes; more than $100,000 from pharmaceutical and health products companies, and more than $60,000 from health services and HMOs, according to records from the open-government group, Center for Responsive Politics.
Included in those totals were more than $38,000 from the political action committee of the American Medical Association, more than $27,000 from the PAC of Aetna Inc, a major health care provider, and more than $20,000 from the PAC of American Hospital Association.
The donations from these leading hospital groups, health care providers and insurers constitute a large portion -- roughly 11 percent -- of the senator's overall campaign receipts, leading to concerns among good government groups and progressive activists that Snowe will be biased in her approach to the health care reform debate. That said, an aide to senator, who would not provide an on-the-record response, noted that the Snowe had yet to fully oppose the public option despite taking a leading role in pushing for a trigger proposal.
"She's stayed in the middle of the road to this point," the aide said.
The ties, however, do not end with campaign contributions. Several former Snowe staffers now serve as lobbyists for private industry groups actively trying to affect health care legislation.
Catherine Finley, a former senior health care advisor for the Senator, and Tucker Shumack, a former tax counsel for Snowe, both serve as principals with Capitol Counsel. Over the past few years, the firm has earned substantial sums of money lobbying on behalf of the Pharmaceutical Research and Manufacturers of America ($50,000), Hoffman-La Roche ($60,000), The Healthcare Leadership Council ($30,000), Health Care Service Corp ($100,000), and the pharmaceutical company, Sanofi-Aventis ($60,000)
Finley was listed as a lobbyist for Health Care Service Corp, which solicited the Capitol Counsel's services in 2009 for the purpose of monitoring "tax issues in health care reform proposal and corporate tax reform proposals." Shumack was also on that form as well as being listed as a lobbyist for PhRMA, which hired Capitol Counsel in 2009 to deal with "legislative issues related to access to pharmaceuticals, including Medicare Part D, and Children's Health Insurance Program in health care reform."
Capitol Counsel isn't the only firm currently housing former Snowe aides. Thomas Petrizzo, a former legislative aide to the Senator, is now chairman of the Petrizzo Strategic Group (PSG). Lindsey Ledwin, a former Snowe staffer as well, serves as a lobbyist for that same firm. In the first quarter of 2009, PSG was paid $20,000 to lobby on behalf of Medica HealthCare Plans, Inc and $20,000 from the Northwest Hospital & Medical Center. Ledwin served as a lobbyist for MVP Services - a health insurance carrier - which paid $40,000 in 2009 to "oppose the Administration's 45 day notice to reduce reimbursements to Medicare Advantage plans."
The revolving door, in addition, has worked both ways. Snowe's current deputy chief of staff, Arran Haynes, was, until recently, a lobbyist with Cassidy & Associates. One of the biggest lobbying names in D.C., the firm's first quarter clients in 2009 alone include TriHealth (which paid $50,000 in lobbying fees), Memorial Healthcare System ($70,000), the University of Massachusetts Health Care system ($140,000), and other health care providers. While there, Haynes represented several local hospitals and health care providers, including the group Elliot Health System. An acute care hospital located in Manchester, Elliot continues to lobby Congress on matters relating to medical records technology.
Going forward, health care reform advocates of all ideological stripes, are likely to keep a keen eye on how these ties and the campaign contributions may shape Snowe's approach to the health care debate. The Maine Republican's vote is that important.
"She is obviously a key negotiator," acknowledged one Democratic official working on the reform process. "She has a history of being more progressive on health care issues. She is clearly under a lot of pressure from special interests and industry insiders but has the opportunity to make sure health care reform moves forward unobstructed."