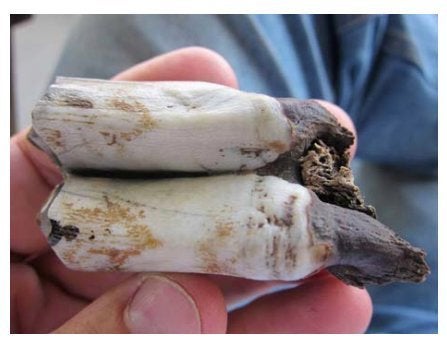 Snomass has quickly turned into a fossil goldmine.
The two-inch tooth of an ice age camel (aka the Camelops) was the most recent ancient discovery from the Ziegler Reservoir and excavation site. The sites's first discovery was a juvenile Columbian mammoth by a bulldozer working to expand the reservoir on October 14 of last year.
7News reports that crews digging at the Ziegler Reservoir excavation site in Snowmass Village have now uncovered a staggering 4,056 fossils since the project resumed this spring.
A group of 27 scientists have joined the 50-person dig team and have until July 1, one more week, to discover more fossilized treasures before the site is turned back over to the water district for reservoir expansion.
Snowmass Water and Sanitation District voted unanimously to donate the fossils to the Denver Museum of Nature and Science, and in the first week of November the museum officially set up archeologists to start digging.
Since then archeologists have found a full American mastodon skull, the first ever found in Colorado, a ground sloth, two small deer-like animals, four Ice Age bisons, and four Columbian mammoths. Initial radiocarbon dating has indicated that the site has 43,500 years old, not to mention that the site is also well over 8,000 feet above sea level.
The museum is also offering a unique opportunity for 15 local Aspen educators to join the volunteer ranks at the dig site, the Snowmass Sun reports.
Dr. Kirk Johnson, the vice president and chief curator of the museum said during a press conference that Ziegler has wonderfully preserved plants and animals from the Ice Age, as if they were "sealed in a Tupperware container."
The fossil teams will include nearly 40 scientists from four countries and 15 institutions; 107 volunteers, including educators from the valley, who have been trained as excavators; 35 museum staff members; and nine interns.

A main message: the snow — of which more is expected overnight — be damned.
REAL LIFE. REAL NEWS. REAL VOICES.
Help us tell more of the stories that matter from voices that too often remain unheard.