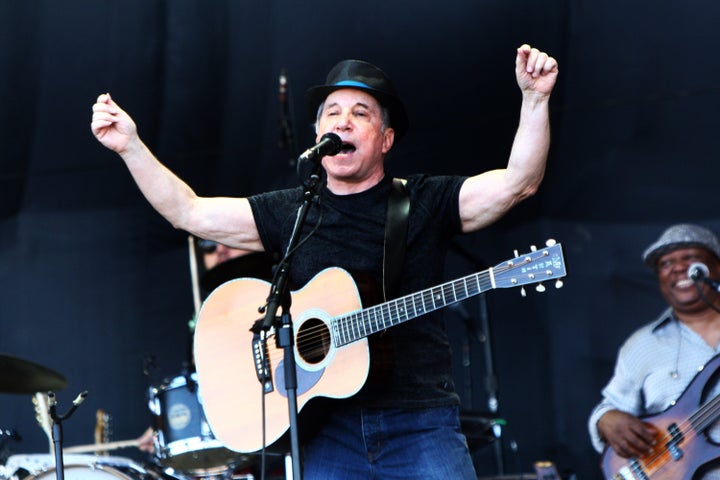 Ah, the lazy days of summer, filled with more sunshine and ease than the rest of the year. This time of year always recalls musical memories, and one of mine is Paul Simon's legendary concert in New York City's Central Park.

On that perfect August night in 1991, some 600,000 people gathered on the Great Lawn to listen to Simon tell his song-stories, his sweet tenor seemingly untouched by the years since he first came to prominence on the 1960s folk scene with his partner Art Garfunkel.

This summer, Simon, now four months shy of his 70th birthday, has given fans a new soundtrack to make new happy memories with his new album, So Beautiful or So What, his 12th solo studio album. Simon said the bluegrass-hued album is his "best work in 20 years." And he's right.

Moreover, So Beautiful or So What, which was released in April to wide critical acclaim, is one of the most beautiful, gracefully powerful and memorable collections of spiritual musical musings in recent memory.

Steve Stockman, a Protestant clergyman and music critic from Northern Ireland who writes about the intersection of faith and popular music, proclaimed Simon's latest album "so God-drenched that it could win best Christian album of the year."

The "best Christian album of the year" from a man who famously described himself in a long-ago lyric as one part of "one-and-one-half wandering Jews"?

Simon is, in fact, Jewish but is not shy about saying that he is far from religious. However, in a "making of" DVD that accompanied the album, Simon admits freely that "there seems to be a theme in the album -- not intentional. I noticed it after the first five or six songs that God seemed to be in four or five of them.

"And it's funny because for someone who's not a religious person, God comes up a lot in my songs. ... There was a show I did about a year and a half ago and Paul McCartney was there and he came back afterward and said, 'Aren't you Jewish?"'

So maybe Stockman has a point after all.

Take, for example, the lyrics from the song "Love in Hard Times":

God and his only son

Paid a courtesy call on Earth one Sunday morning

Orange blossoms opened their fragrant lips

Songbirds sang from the tips of cotton roots

Old folks wept

For his love in these hard times

"Well, better be going"

Said the restless Lord to his son

"There are galaxies yet to be born

Creation is never done."
On his song, "Getting Ready for Christmas Day," Simon samples some archival audio from a 1941 sermon by J.M. Gates, an African-American preacher and Gospel singer from Georgia who recorded some 200 sermons. Gates' "Christmas" sermon was the last he recorded before dying in 1945.

In the song, Simon samples Gates saying:
"Getting ready, ready for your prayers,

I'm going and see my relatives in a distant land."

Getting ready, getting ready for Christmas Day.
If I could tell my Mom and Dad that the things we never had

Never mattered we were always OK

Getting ready, oh ready, ready for Christmas Day

Ready, getting ready

For the power and the glory and the story of the

Christmas Day.
Then there's Simon's "Rewrite," we he talks about rewriting (his life?) and "chang(ing) the ending."

He sings:
I'd no idea

That you were there

When I said help me, help me, help me, help me

Thank you, for listening to my prayer.
That lyric is reminiscent of something that author Anne Lamott (surely a literary soul sister to Simon if ever there was one) has said: The two best prayers are "Help me, help me, help me" and "thank you, thank you, thank you."

Throughout the 10 tracks on the album, Simon tells stories in his inimitable way, backed by musical arrangements that highlight his virtuosic guitar playing as well as his singular vocals and the spiritual strengths of his lyrics. Simon spins vivid tales about love, growing older, faith and pilgrimage, each dripping with spiritual longing and a certain unexpected joy.

In the album's liner notes, penned by Simon's friend and fellow musician Elvis Costello, the transcendent themes that run through So Beautiful or So What do not go unnoticed.

"These days it might court shallow mockery to sing so openly of our humanity, mortality and divinity, but not with music to make these themes fly or words containing such wit, grace and humility," Costello writes.

"In 'Love and Hard Times,' two-thirds of the Trinity arrive on earth only to disagree over who and what is worthy of salvation. This bold and ... completely humbling piece of composition took my breath away on first hearing."

Costello is not alone in his reaction to this album. It's a keeper, an absolute gift to listeners, right up there with Simon's epic "Graceland" and "Rhythm of the Saints" albums.

Whether the listener is a "believer" or not, So Beautiful or So What is a masterpiece that surely will provide a rich soundtrack for this summer -- and for many summers to come.
This column appears via the Religion News Service.
Related
Popular in the Community