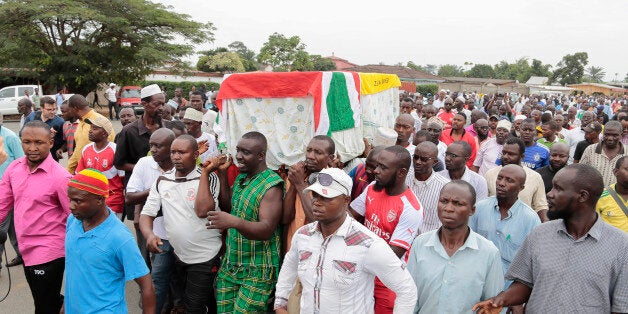 I'm wrapping up a report for Le Monde.
I saw burned coffee fields.
Ransacked villages of which not a single tile or scrap of sheet metal or cinderblock remained, villages where everything, absolutely everything, was scraped down to the bone.
I encountered units of the Intagoheka ("the ones who never sleep"), the Hutu militia responsible for horrifying acts of violence: kidnappings; bodies, decapitated and impaled, drying in the sun by the side of the road; kids locked in their classroom moments before their own teacher torches it.
I heard and reported accounts that the other side, the Tutsi side, was not always outdone: Weren't people saying that certain elements of the army had just declared civilians in the Kavumu hills, supposedly fiefs of Hutu Power, to be "legitimate military targets"?
In short, I reported on a genocide suspended -- but suspended only after causing 300,000 deaths.
And on the eve of my departure, remembering that in neighboring Rwanda radio had been used to give the signal to accelerate the massacres, I had the idea, with two young Burundian intellectuals, David Gakunzi and Innocent Muhozi, of using radio in another way, of starting a political radio station whose purpose would be to oppose political views of the country's situation interpreted through the terrible prism of ethnicity.
We called it Radio Renaissance.
The André Lévy Foundation in Paris brought it into existence.
And for 15 years it aired programs supporting the vital development of a civil society, a society capable of leaving behind the tragic language of race war that had held sway since the Belgian colonial period.
The country seemed at peace.
The forces of dialogue seemed to have won out over the preachers of hate.
Seven years before I had gone back to Bujumbura when Innocent Muhozi, who headed Radio Renaissance, invited me down to help him celebrate its expansion into television. The Burundi that I encountered at that time was wounded but still standing, ravaged but rebuilding, traumatized by the terrible decade that had begun in 1993 with the assassination of President Melchior Ndadaye but apparently freed of the curse of genocide.
And then, suddenly, catastrophe.
President Nkurunziza, having come to the end of his second term, does not wish to leave office.
Peaceful demonstrations in the streets of Bujumbura are organized to encourage him to respect a hard-won constitution for which uncounted victims paid with their lives.
The president orders police to fire into the crowd.
The outgoing president's security forces enter Bumerec Hospital and kill wounded soldiers in their beds.
His militia uses grenades on tomato vendors alleged to have supported a group of republican officers who, it must be said, have been wrongly described as plotting a coup when in fact they rose to the defense of the popular movement favoring the rule of law.
The leader of an opposition party, Zedi Feruzi, is gunned down in front of his home and then finished off with a bullet to the head.
And, during the night of May 13-14 a group of Imbonerakure militia men take up positions in front of our broadcasting station, spray it with gunfire, sack its equipment, and silence one of the freest voices of the country.
Each of us has his own omens of impending disaster.
For me, the omen was what happened at the station.
Not that the fate of its technicians (they are safe and sound) can be compared to that of the three tomato sellers who were summarily assassinated.
And I am relieved to report that my friend Innocent Muhozi emerged free from a lengthy hearing that, fortunately, was attended by representatives of the French and Belgian embassies.
But that the regime has taken the risk of going after a broadcaster established and supported by a French nongovernmental organization says a great deal about its recklessness -- a worrisome sign indeed.
That one of the few media outlets to advocate staunchly against the ethnicization of public debate and in favor of the building of a democratic public space is a clear example of what Walter Benjamin would call a fire alarm.
And I would add that former President Nkurunziza's constitutional coup -- in this case the label is accurate -- is one that has, as most coups do (or perhaps a little more than most) made the news its primary platform and objective. The key figures in the reassertion of control have been Jérome Nzokirantevye (head of the national broadcasting network), Willy Nyamitwe (a Hutu Power zealot and all powerful communication adviser), and Edouard Nduwimania (the interior minister, who has been broadcasting an unrelenting stream of murderous messages from Ngozi).
People will say what they will.
But the triumph of the hate media chills the blood.
For anyone who remembers the killing fields of Kigali and Butare, it sounds a new and intolerable knell.
And that is why, while awaiting the involvement of the international community that was so tragically absent 20 years ago from Rwanda, I intend to do everything in my power to see that Radio Renaissance returns to the air and resumes its fight for the rule of law.
Translated by Steven B. Kennedy
Calling all HuffPost superfans!
Sign up for membership to become a founding member and help shape HuffPost's next chapter