George Clooney knows how to make someone feel like a million bucks, according to his good friend and business partner, Rande Gerber.
Gerber recently revealed on MSNBC's "Headliners" show that the actor once gifted 14 of his closest friends a $1 million a few years ago.
"There's a group of guys we call 'The Boys,'" Gerber said. "George had called me and 'The Boys' and said, 'Hey, mark Sept. 27th, 2013, on your calendar. Everyone's going to come to my house for dinner."
Once everyone was gathered at Clooney's house, he gave each of "The Boys" a black bag. It almost sounds like a scene out of "Oceans Eleven."
"George begins to say, 'Listen, I want you guys to know how much you've meant to me and how much you mean to me in my life,'" Gerber said. "'I came to L.A., I slept on your couch. I'm so fortunate in my life to have all of you and I couldn't be where I am today without all of you. So, it was really important to me that while we're still all here together, that I give back. So I want you all to open your suitcases.'"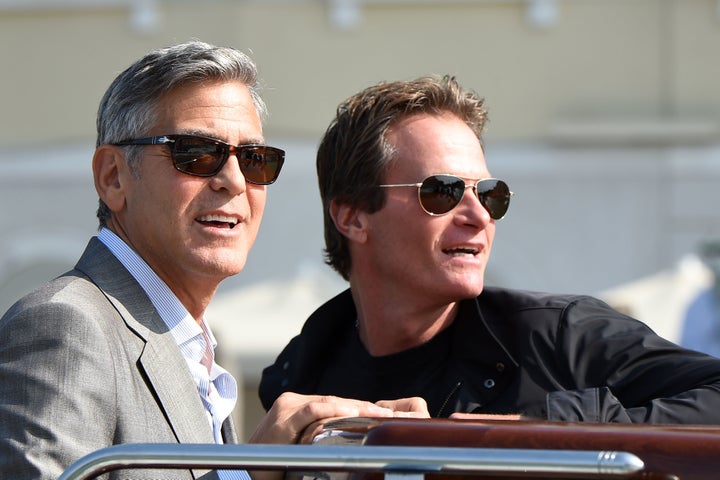 When the group opened their suitcases, all of them found $1 million broken down into $20 bills. Clooney said that he'd also paid taxes on all the gifts, and Gerber said his friends were simply "in shock."
"One was working at a bar in Texas at the airport, trying just to support his family," Gerber said. "Rides a bicycle to work every day. I mean, these are guys that took care of George and now he's giving it all back."
Gerber says he tried returning his money to Clooney, but the actor wasn't having it.
"I pull him aside and said, 'I absolutely am not taking this million dollars,'" he recalled. "Immediately George goes, 'I'm just going to make one announcement. If Rande doesn't take the million dollars, nobody gets" their money.
Now that's one way to bargain. Gerber said he gave his gift to charity. And the universe found a way to give something back to Clooney a year later.
"This is who George is. That was Sept. 27, 2013. Now Sept. 27, 2014, he marries Amal," Gerber said. "That's good karma right there."
Popular in the Community