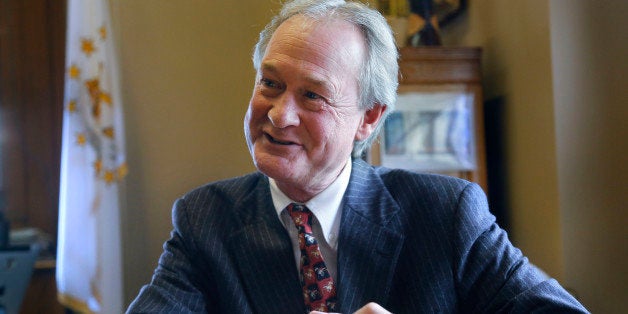 On April 9, Lincoln Chafee announced that he was exploring a run for the presidency. His reasons are quite clearly stated in The Washington Post: "Unlike other potential Clinton challengers, Chafee appears to be spoiling for a fight ... he said Clinton's 2002 Senate vote to authorize military action in Iraq should disqualify her from becoming Commander-in-Chief." So the question is, why not Lincoln Chafee? He is actually a pretty good guy -- a former senator, just retired governor, and an outspoken critic of George W.
Admittedly, Chafee started as a Republican, chafed under the "increasingly conservative" approach of the Republican Party, switched to Independent, won the Rhode Island Gubernatorial election in 2010, and then drifted into the Democratic Party in 2013 by way of his endorsement of President Obama in 2012.
The beauty of his candidacy from the perspective of the Liberals in the Democratic Party is that he is perceived to be a moderate Republican, which he is not. But that perception will help in building his respectability as an alternative to Clinton and endear him to the DINOs (Democrats In Name Only) and Independents that are, unfortunately, an important part of the calculus needed to win an election.
Chafee shares at least one negative characteristic with President Obama in that there are several issues areas where he is just terrible. In the same sense that Obama is appalling on civil liberties, whistle blowers, press freedom and Wall Street regulation, Chafee supports, and has voted for, free trade agreements in the past. He has also endorsed the bankruptcy reforms that allow banks to pursue debtors through the process and restrict consumer use of bankruptcy as a protection. He has supported partial privatization of Social Security and voted for the USA Patriot Act.
On the other hand, however, look at all the good things for which Chafee stands. He is a strong supporter of environmental issues, opposed the invasion of Iraq and the elimination of the estate tax. He voted against cutting income taxes during war, and was in support of maintaining the highest brackets for the wealthy. Chafee's against oil drilling in Alaska, but he is for increased funding for health care, pro choice, and believes in the strict separation of church and state. He supports stem cell research, gay rights, affirmative action, gun control, and opposes the death penalty. He favors increasing the minimum wage, and supports a two-state solution in Palestine. In his past life as a senator, he voted against the inadequacies of the Bush Medicare Part D expansion, unnecessary Senate filibusters and the appointment of John Bolton as Ambassador to the UN.
What is not to like? He says he is going to go after Hillary Clinton for her hawkish stance in the Senate and as Secretary of State. He is going to make income inequality a major theme along with Clinton's close affiliation with Wall Street and the financial community. As he was quoted saying, "Yeah, we all know how raising money sometimes affects your judgment."
Liberals have to take a look at this guy if for no other reason than he grew up as a privileged kid attending prep schools and trotted off to Brown University ending up as captain of the wrestling team. But even better than that, he left to attend the University of Montana where he learned to shoe horses subsequently spending seven years as a blacksmith. The man lived the American dream -- he became a cowboy! Think about that -- seven years as a blacksmith! For those who have spent time around animals, you know that they often have a mind of their own, thus it can be humbling if not dangerous.
So here you have a privileged kid who grows up to be a cowboy and "evolves" into this character who appears as a moderate. When asked how a former Republican might fare in the Democratic Party he replied:
"When you look at my record on all the issues, whether it's on the environment or on fiscal responsibility or on immigration reform, I've been very, very consistent. I have not changed. My old liberal Republican stand on the issues does line up with the Democratic Party -- women's reproductive freedoms, support for working families. I have a 30-year record. Also note that of the candidates here, [former Virginia senator] Jim Webb was a Republican and Hillary Clinton was a Goldwater Girl."
If you consider that Liberals are stuck at the moment hoping against hope that Senator Elizabeth Warren will change her mind on a presidential run, what happens when they finally get it that she is not going to do it? Without her they will be reliant on Senator Bernie Sanders, who, as likable as he is his efforts to drum up support will have little traction. Chafee could generate excitement. His willingness to go after Clinton is very useful especially if Warren remains in a leadership position in the Senate and keeps firing off legislative bombshells.
Chafee's candidacy poses a very smart strategic path for Liberals, a Left political drumbeat that will have a stronger focus and a greatly widened audience as a result. While Chafee can force policy concessions from Clinton on the campaign trail, Warren can solicit support for local and statewide candidates to help build a stronger Liberal legislative coalition! It will take an awful lot to reclaim the White House and Congress and like someone once said, "It takes a village."
Popular in the Community