When it comes to sizing the remodeling industry, the figure most frequently cited is "around $300 billion annually." With interest in the sector heating up, BuildZoom decided to take a closer look at the actual size of the market.
It should first be noted that most estimates are based on primary data gathered by the U.S. Census, so this would be a good place to start.
The Value of Construction Put in Place Survey (C-30)
The C-30 provides monthly estimates for the total dollar values of construction work done in the US. Its methodology considers a range of primary data sources. Of particular note:
New private residential construction estimates come from their Survey of Construction;
Private residential improvement expenditures comes from their Consumer Expenditure Survey, based on interviews with 7,500 owner-occupied housing units.
In 2013, the C-30 estimates around $332 billion was spent on what they define as "private residential construction including improvements." This number is broken down as follows: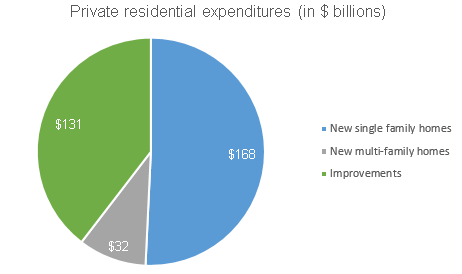 This suggests that if you exclude new home construction, the slice that is left is actually closer to $130 billion although there are some notable reasons why this can't be equated with the size of the private remodeling industry:
The figure doesn't include "maintenance" expenditures like repairs or replacements.
It doesn't include any expenditures made to rental, seasonal or vacant properties.
To help address these shortcomings, we can turn to the US Census' American Housing Survey (AHS), most recently conducted in 2011.
The American Housing Survey
The AHS collects data from a significantly larger sample (around 155,000 housing units) than the C-30, which makes sense because its goal is to create a much more nuanced and detailed view of the housing market as opposed to the C-30, which serves as more of an ongoing index of activity for the construction sector.
According to the AHS, the 76 million owner-occupied units accounted for $358.5 billion in expenditures during a two-year period (2009 - 2010). At about $180 billion per year, it provides a larger estimate than the C-30 although it still doesn't account for expenditures on 39 million renter-occupied units or 13.3 million vacant units and still does not consider maintenance expenditures.
The most complete view comes from the Harvard Joint Center for Housing Studies (JCHS) tabulation of US Census data.
Harvard Joint Center for Housing Studies (JCHS)
The JCHS analyzed both the AHS and a discontinued US Census Index (the C-50), which measured residential improvements and repairs. They provide what is probably the most comprehensive number. According to their analysis, at total expenditures on improvements and maintenance to owner-occupied and rental units was about $275 billion in 2011.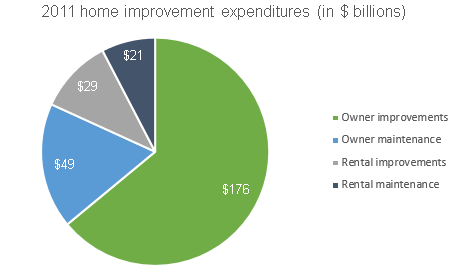 This figure is probably most responsible for the $300 billion estimate that is commonly cited. An important distinction to be made involves separating DIY expenditures from "Professional" expenditures (in which a professional mediates the improvement). Within the $176 billion slice (improvements to owner occupied units), that division breaks down as follows: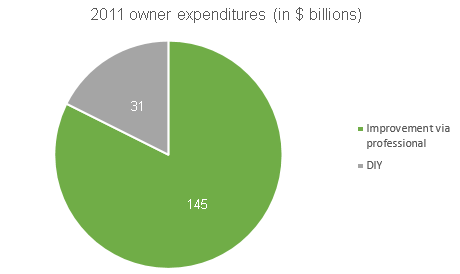 It is unclear what percentage of the $29 billion spent on improvements to rental properties can be attributed to professionals. If we apply the ratio seen within owner expenditures, we can estimate that even if the total market was close to $300 billion in 2011, the total spent via professionals on home improvements was probably closer to $169 billion.
Popular in the Community