the In Part 1 of this blog, I examined the phenomenon of Street Art and how it has evolved over recent decades. In this part, I look at two Street Artists who attained legitimacy and international renown, and interview several young Valencian Street Artists about their work and their future as artists. —TW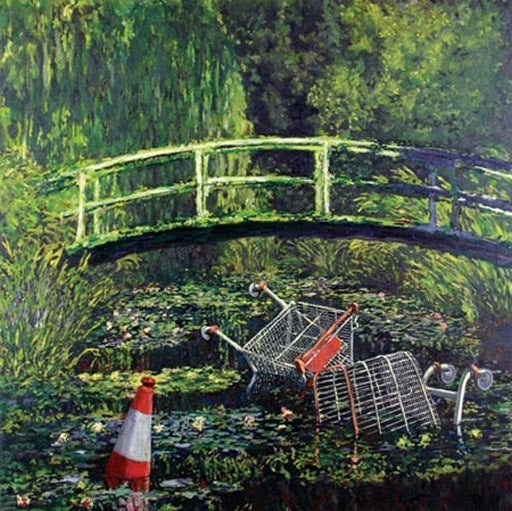 The record auction price for an American artist at Sotheby's in NYC was set this May with the sale of a work by Jean-Michel Basquiat, the street artist who died from an overdose at age 28 in 1988. The untitled painting went for a staggering $110.5 M. Basquiat achieved notoriety and then fame in the late 1970s as a Graffiti artist, part of a loose aggregate known by the tag SAMO (which stood for Same Old Shit). He and Al Diaz, another street artist, painted brutalist social statements in the SoHo area of Manhattan. His subjects were poverty and wealth and the eternal class struggle, which he painted dressed in his signature Armani suits. The style was seen as innovative, explosive, neo-expressionist. Ironically today, this work (see example in photo below) commands the attention of a handful of elite collectors who can afford the nine-figure price tags. The Barbican in London is about to launch a new exhibition of Basquiat's work and his images have been licensed to the likes of Valentino, Eleven Paris and Komono the watchmaker. From the disturbing and extraordinary, his work, rather like that of Robert Mapplethorpe, has found favor with the affluent establishment and is in process of becoming part of the Western canon. And all this from a graffiti prodigy who evolved into a street artist who eventually entered the citadels of galleries and museums.
Then there is Banksy, the totally anonymous British street artist who sees himself as a political activist wielding the serrated edge of his very fine subversive humor. (See photo above) Have a look at the political statement he is making in his recent "Walled Off," a hotel that he has designed in Bethlehem facing the West Bank. His style is very distinctive with a signature stenciling technique that has art looters scrambling to remove images for sale to collectors.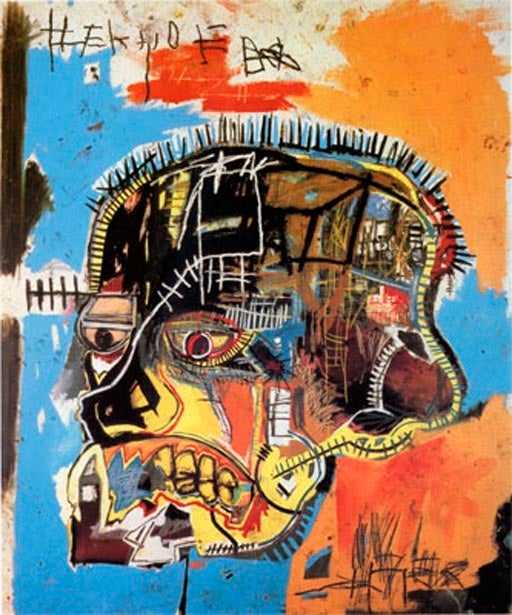 Basquiat and Banksy are probably the two most prominent names among Street Artists. But there are legions more who don't have the notoriety or selling power as yet. I met with several, four young artists and an artist-turned-gallery-owner, who are living and working in Valencia, Spain. I had admired their work and wanted to learn more about their lives and motivation and how they see their future in this form. They were all wonderful people, charming, intelligent and totally committed to their art— their work connected to the rest of the planet through social media. (Facebook and Instagram are obviously the tools of the aspiring artist these days.)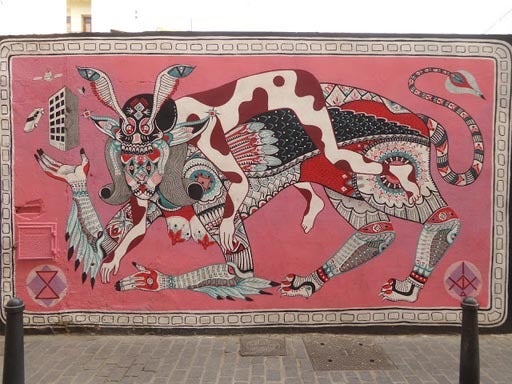 Alvaro Gonzalez ("DISNEYLEXYA") is Chilean, 38 years old, and has lived in Valencia for six years. He, like nearly all the artists I met, studied Fine Arts at university. He knows that his work (see image above, a painting that is now almost completely destroyed) is disappearing rapidly which he puts down to choosing the wrong walls on the wrong buildings as they are all being demolished. But he doesn't seem to mind this at all. "Street Art is many things," he says. "Principally it is an alternative form of working with the street as your form of expression. It allows freedom, which you cannot find in a gallery or a museum. Its energy is a vehicle for expression. All art is political in some way but its message is often camouflaged with symbolism. It is both social and anti-social but it should make the passing audience happy or surprised and it must make the city better."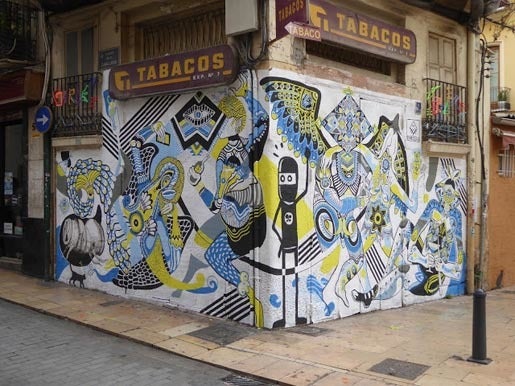 David De Limon ("Lolin") is 35 and comes from Valencia. He works as a graphic designer, something he enjoys, but his heart is set on devoting himself to art. His iconic characters include one that you can encounter nearly everywhere in the city, in doorways or around corners, looking not dissimilar to a Ninja warrior. It is almost the symbol of Valencia. He tells stories of how political attitudes in the city have changed towards Street Artists. His favorite anecdote is about the Pope's visit to Valencia in 2006 when the then Mayor, Rita Barberá, ordered all the street art to be painted over. (Rita Barberá was the conservative Mayor of Valencia in from 1991 to 2015. She died suddenly in her hotel room awaiting an investigation into corruption charges in 2016.) The paint used was a uniform grey and this became known as "Rita Grey" and all the Street Artists started to use only this color for their work rendering the "paint out" ineffectual. He also talks about his relationship with the police and being stopped by one female officer who demanded proof of his permits only to find that she really loved his work and that the police station had images of his characters everywhere. "Today there is much more freedom, which I like," he says.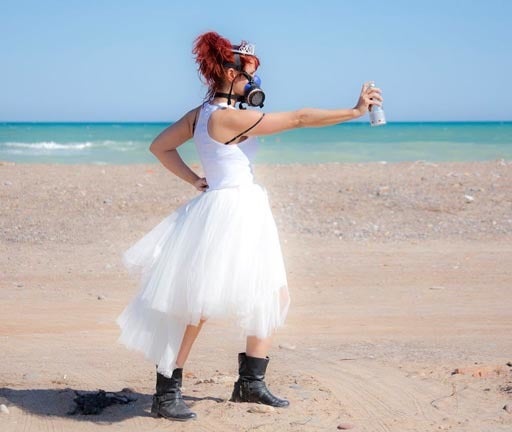 The third artist is one of David's good friends and a contemporary with the lovely name, La Nena Wapa Wapa. She is also from Valencia and has developed an iconic image seen throughout the city. It is a repeated self-portrait, which has mood changes but is always fantastical. Like all her work, it is done with a stencil. She too has a background in the Fine Arts and graphic design and her greatest wish is to give herself exclusively to being an artist. At present she makes ends meet by working as a waitress near the Lonja (the old Silk Market) in the Carmen barrio. Street Art for her is about freedom, self-expression, ideas and positive fun. Her audience is also free to interpret her work any way they wish. She is part of an artist collective, which has organized festivals in places like Muro de Alcoi near Alicante and Cheste close to Madrid with upwards of 20 artists taking part.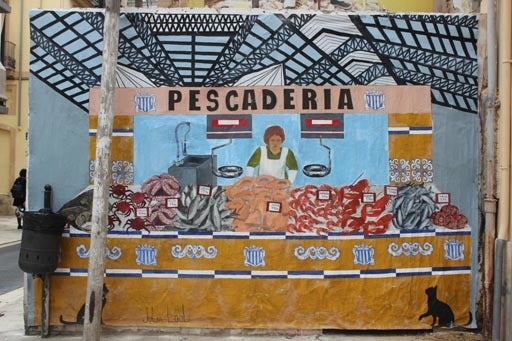 Julia Lorenzo Oliver (Julia LooL) is just 22 and is studying for her Masters in Fine Arts. She has created her own signature image—this time a cat, which you will find all over the Carmen barrio. (See image above and note cat in lower right.) The Carmen is a part of the old city going back to the time of the Moors with a myriad tangle of streets that makes it so easy to get lost. If you like a particular work in the Carmen neighborhood, best to keep a distinct eye on the address as you may never find it again. Julia uses canvas, and wood as well as paper and paste. She is becoming something of an arts entrepreneur designing with her images clothes, bags, and magnets for sale online. She agrees that all her work "is ephemeral and that it's all based on the actions of people or the weather or the passing of time. For the audience it's about a connection, a debate that humanizes and for the artist it gives back joy and beauty." She too wants to contribute to the improvement of the community and feels that commercialization can detract but "how will I eat?"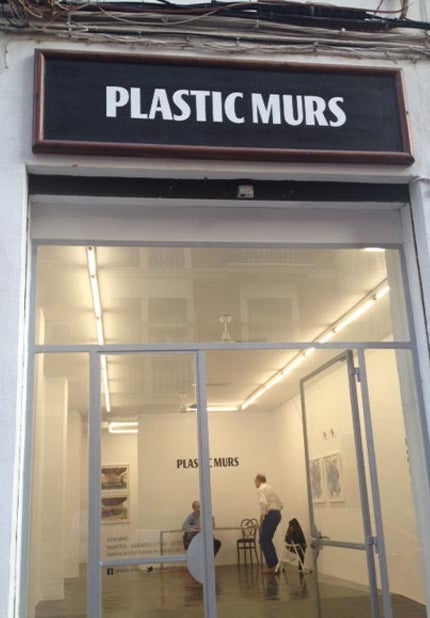 Vicente Torres runs a small gallery in the Rusafa barrio called Plastic Murs which has been open for about 2 ½ years. He started his life as a Street Artist when it was universally illegal and often escaped from the police with his spray paint in hand. He quotes the American artist John Fekner on the difference between graffiti and street art: "Street Art is everything that is in the street that is not graffiti." When I asked him about the huge price paid for the work of Basquiat, he was totally sanguine. "Sometimes art enters the world of soccer transfers. The price for the transfer for the Brazilian star player Neymar da Silva Santos at $263 M was more than twice as much as the Basquiat sale." Maybe he has a point.
About the impermanence of their work, these Street Artists take a philosophical view that reminds one of Tibetan monks who put great time and energy into their intricate sand mandalas only to destroy them upon completion. Alvaro Gonzalez sums up the very simple message. His work, which he prepares at home, can remain on display for just hours or sometimes months. But it, like everything else, is in flux: "This is the end of consumerism, humanity, religion; it is part of the disintegration, the natural cycle we find. I find it more secure to paste my work on walls but it is not the weather that is the problem or people. It is the wind."
If you'd like to look at other examples of Valencian street art, check out Ben Clavan's portfolio here.
Related
Popular in the Community