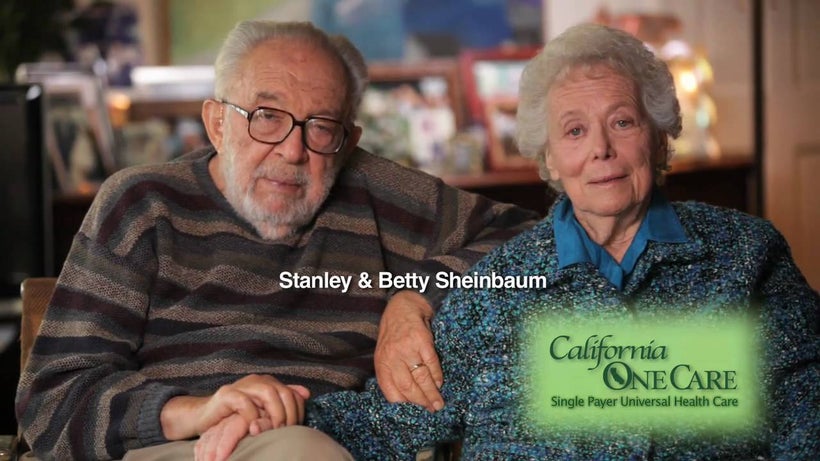 The year was 2003, I was on my way up to the US to spend three months trying to find cultural organizations willing to help Casa de las Americas out in its pursuit of salvaging and safekeeping the cultural heritage it holds on Latin America.
One of my stops was going to be Los Angeles and my father asked me to pay a visit to an old friend he had not seen in years. I said "sure" and he wrote an email to Stanley Sheinbaum.
Stanley replied immediately that he and Betty would love to see me while on the West Coast and they contacted me upon my arrival in NY and we coordinated lunch for the week that I would be in LA.
The day we met I was greeted at the door of their Brentwood home by Stanley's assistant. I will never forget the enormous ficus tree right before the main door just to the side of the driveway.
I went accompanied by my dear friend/sister filmmaker Vivien Lesnik Weisman who was my host in LA and my designated driver and my cohort in all activities intellectual, fun, spontaneous and good, so this visit with her proved to be right up our alley.
As we walked through the living room it was immediately clear to anyone who understands the Left of a particular generation that Stanley belonged to that great group of people that truly believed a better world was possible; all over the place you would see books, leaflets, pamphlets, buttons, pins, articles, a political book fiend hoarders paradise come true, there was literally nowhere to sit!
We must have spent close to 4 hours with him that day, talking about anything and everything. He asked me who I was hoping to see while in LA and I mentioned two very close friends of my dad's, Tom Hayden and Andy Spahn both of whom were very close to him and he said, "You will be in good company!". As usual he was right.
He spoke to us about the war, about US Cuba relations, about the future. And then he looked at me point blank and asked: "what can I do for you?" I told him my visit to the US revolved around trying to fundraise but that given the war, and internal incidents on the island it was becoming practically impossible to do. So, in his ever brilliant manner he offered up solutions for the future and then he asked again, "What can I do? Give me something!" To which I mentioned an issue haunting Cuba. He already knew all about it. He already had ideas. He already knew just how to help. And he did. Stanley offered his home as a meeting place to allow Lenny Weinglass to explain one of the most important cases he would ever have to defend. In no small part due to that evening is it that the case ended in Lenny´s and Stanley´s favor.
Twelve years have passed. I stayed in touch as much as I could with him. I sent him pictures of my son every now and then so as to keep him and Betty in tune to the goings on in my life. Stanley would get back to me on occasion and once he even sent a photograph of himself and of that beautiful ficus I was so enamored of. Both he and Betty made that afternoon quite memorable.
Stanely will be sorely missed. If ever I thought of cloning a person, it would have been him. So much to offer from a man who gave his wit, his love, his passion to all that surrounded him, a man who truly believed that a better world had to be possible.
We shall miss you Stanely; keep walking by our side.
Calling all HuffPost superfans!
Sign up for membership to become a founding member and help shape HuffPost's next chapter
This post was published on the now-closed HuffPost Contributor platform. Contributors control their own work and posted freely to our site. If you need to flag this entry as abusive,
send us an email
.