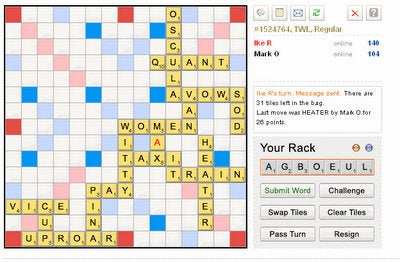 What's a nine-letter word for copyright?
Well, er: C-O-P-Y-R-I-G-H-T.
The popular Facebook application Scrabulous, a word-making board game that quite closely resembled Hasbro's Scrabble, is no more. Users who logged in today found the following message:
"Scrabulous is disabled for US and Canadian users until further notice. If you would like to stay informed about developments in this matter, please click here."
Facebook users in the U.S. and Canada can no longer access Scrabulous, the faux-Scrabble game that quickly became one of the most popular applications on its developer platform.

This was done independently on behalf of the Scrabulous creators, a Facebook representative told CNET News in an e-mail Tuesday. "In response to a legal request from Hasbro, the copyright and trademark holder for Scrabble in the U.S. and Canada, the developers of Scrabulous have suspended their application in the U.S. and Canada until further notice," the e-mail explained.
Turns out the two brothers -- Rajat and Jayant Agarwall -- who created Scrabulous may have turned down a shot at a cool ten million bucks from the game's owners (including Hasbro and Electronic Arts) to keep some form of Scrabulous online:
According to this New York Times article, Jayant Agarwalla said that he and his brother did not create Scrabulous to make money - they just wanted to play Scrabble on their computers. So why didn't they accept the big check then? The brothers decided to turn down the check, rumored to be around the $10 million mark; apparently, they were holding out for more money. How much more? A multiple of several times $10 million by some accounts. Even though the game, by all fair estimates, was probably only worth around $3-6 million, the brothers felt they deserved more.
If it's us, we take the $10 million. Or the $3 million. But we don't take door #2, which turns out to be a Scrabulous lawsuit from Hasbro. Yeah, that dropped last week.
So, beyond two guys being $10 million poorer than they could have been, what's the impact? Evidently, people are upset. As the news spread across the internerd, Scrabulous-mourning Facebook statuses updated like wildfire according to a Forbes blog. Their sampling:
*DK misses Scrabulous and resents THE MAN.

*RM wonders if she can keep playing Scrabulous if she changes her location to, say, Singapore... anyone try that yet?

*AS is trying to find out why Facebook shut down Scrabulous.

*LH OMG! It's time for a SCRABULOUS riot!
Meanwhile, our friends at Silicon Alley Insider think the brothers Agarwall could still reap some benefit:
Earlier this year we heard the Agarwall brothers had been offered a substantial check from Hasbro and other companies with a claim to the Scrabble brand (there are several), but that they were holding out for more. We still think that in the end, they'll walk away with something, since they've got a wildly popular app on their hands. But the takedown certainly removes a whole lot of leverage, and makes it possible that they'll end up with zilch.

In the meantime, it certainly helps EA's Scrabble Beta, which has 14,956 daily users after five days. Expect that to grow now that Scrabulous (509,505 daily active users) is history.
REAL LIFE. REAL NEWS. REAL VOICES.
Help us tell more of the stories that matter from voices that too often remain unheard.