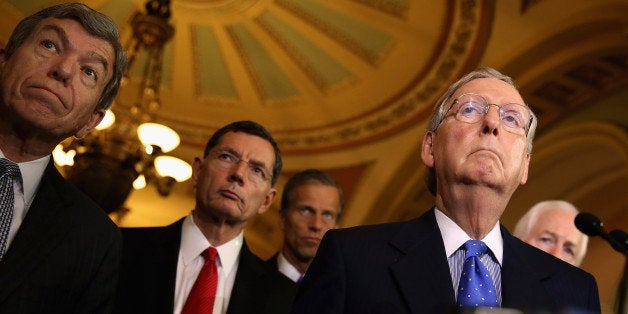 I wasn't shocked when Senate Republicans made their first order of business a bill pushed by Canadian special interests. I knew they had made a commitment to Big Oil to force through a vote on the Keystone tar sands pipeline, which would carry the dirtiest oil on earth across our country.

I wasn't even surprised that GOP leaders ended this week's session early so their members could fly to Palm Springs to cozy up to the billionaire oil magnates, the Koch Brothers, at their winter retreat.

What shocked me about the debate last night that stretched past midnight was the way Senate Majority Leader Mitch McConnell and the new Republican majority treated their colleagues on the other side of the aisle.

First, McConnell and the new Senate GOP leadership pushed to have debate and votes on all kinds of Republican amendments that had absolutely nothing to do with Keystone. They included measures to prohibit EPA enforcement officials from carrying weapons, to block the designation of new national monuments, and even to halt the historic U.S. agreement with China on cutting dangerous carbon pollution.

Fortunately, we have had enough Democrats in the Senate who stood strong and opposed these ludicrous amendments that have zero to do with the tar sands pipeline.

But things hit a new low last night when Senator McConnell refused -- again and again- - to allow Democrats even one minute to explain their amendments, which the Senate had agreed to consider. He shut down the debate before it even started. You can watch what transpired here: http://youtu.be/yl4neFHnk84

McConnell would not allow debate on an amendment by Senator Ed Markey to close a loophole that could allow the backers of the Keystone pipeline to avoid paying into the Oil Spill Liability Trust Fund, which is used to pay for clean-up in case of an oil spill. He would not allow debate on an amendment by Senator Sheldon Whitehouse to require more campaign finance disclosure from the people who would benefit most from the development of tar sands oil. He would not allow discussion of Senator Patrick Leahy's measure to protect the vital role of local federal district courts in reviewing any legal challenges to the Keystone pipeline.

These were all good amendments that at least deserved a chance to be debated.

It was especially jarring to see the debate silenced by the same Senator McConnell who has been touting his commitment to regular order and a respectful, open process. The same Senator McConnell who said on the floor last January, "Any Member of the Senate ought to be able to have a fair chance to get his or her amendment adopted." The same Senator McConnell who told the New York Times this month, "I don't have any intention of shutting the bill down prematurely or to try to jam either Democrats or Republicans."

Not only did Senator McConnell go back on his word, he deprived the American people of a critical debate on these important amendments. He also poisoned the well just weeks into the new Congress.

I still don't understand why, just as America is coming out of a deep recession, the Republicans' first move was to turn to a bill that according to the State Department would only create 35 permanent jobs. And I still don't understand why the Republicans would not instead take up the highway bill, which would support millions of jobs.

But at least if the Republicans wanted to start this Congress with a bill to benefit foreign special interests, they could have made good on their promises to respect their colleagues and run the Senate in a fair and open way.
Popular in the Community