Curious about where the long-past college set goes to learn, I asked 4,000 of my closest Facebook friends if they'd ever taken an online class. The results were amazingly random with two exceptions: Lynda.com and Coursera. Both Lynda and Coursera offer a wide selection of professional courses that are interactive and as a whole, above average. Most who responded had taken a professional class - coding, medicine or science and were happy with their experience.
But what about the guitar players, culinary mavens, woodworkers, gardeners, etc.? Where do they hang out when they feel a hankering to learn something new? It turns out that these endeavors are more personality driven. One told me about a banjo course given by the great Tony Trischka, another about organizational skills from Franklin Covey, and another about learning philosophy from The Great Courses website. YouTube was the destination for a quick learning fix - cooking or fixing something.
To join my self-taught buddies, I spent the weekend sifting through the 11 million search results from googling online guitar classes. The variety of playing styles, videography, levels and teaching styles was staggering. For the most part, the rule of thumb was "you get what you pay for." Better teachers and better production value came with a price tag. I pored over resources like this one at DIY GENIUS, 100+ Self-Education Resources For Lifelong Learners, a list of best places for DIY learners.
Rather than full length commitments, I found myself drawn to quick doses of learning--- brain snacks, if you will. Two sites, Curious.com TV and Curiousity.com are masters of the quick hits. Curiousity.com was born from Discovery Communications and does a great job of producing a high impact and lusciously produced minutes of learning, particularly about science. Curious.com TV, a spinoff of its more course intensive, Curious.com, launched just last week. It offers short spurts of how-to learning with a quick quiz to check your mastery. Curious.com TV (pictured below) recruits online talent with expertise in a variety of areas: crafts, music, health, business and more. It provides its teachers with a learning platform to create pedagogically sound content. Not all of the teachers are what I'd consider master teachers nor entertainers, but there's an egalitarian feel to these snippets of shared how-to.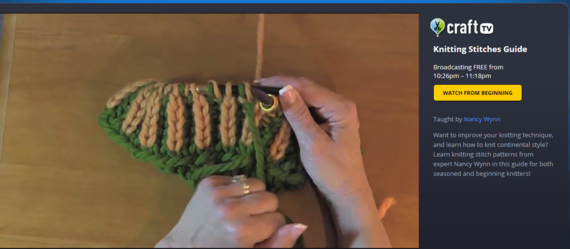 These new casual learning channels, meant to be watched, are like the "Food Network" of learning, only in YouTube sized bites. Increasing online learners can choose to go for a full course meal at places like Coursera or the light-brain snack on these new channels. Those who suffer from ADD and those who like their learning in bites will appreciate the variety.
Robin Raskin is founder of Living in Digital Times (LIDT), a team of technophiles who bring together top experts and the latest innovations that intersect lifestyle and technology. LIDT produces conferences and expos at CES and throughout the year focusing on how technology enhances every aspect of our lives through the eyes of today's digital consumer.
REAL LIFE. REAL NEWS. REAL VOICES.
Help us tell more of the stories that matter from voices that too often remain unheard.