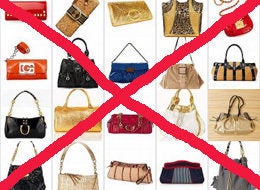 Considering the recent economic downturn, it may be time to give up on "it" bags. The seasonal crop of trendy bags from luxury labels like YSL, Marc Jacobs, and Balenciaga can cost upwards of $4,000 with some exclusive bags costing over $10,000. As banks start to collapse like starving runway models, should we be spending half-a-house's down payment on a bag that will spend its life stuffed under our armpits and crammed with newspapers, granola bars, and half-used tubes of lip gloss? It seems to me like any old sack with a shoulder strap could be put to use instead. It isn't the most glamorous or stylish choice to wear a practical, non-label bag...or is it?
So out it's in: the American-made, non-luxury, under $200, been-around-for-a-century-in-the-US leather or canvas bag or tote. Now that's a mouthful. I'm talking about bags from old-timers like Pendleton and LL Bean. If your first thought is "Sweet! I have a monogrammed LL Bean backpack in my closet I've been dying to re-use!" then you're missing the point. We're not throwing away the entire concept of fashion and going only for practicality, as your enthusiasm for the backpack might suggest. We're in fact trying to stay one step ahead of the trends and two steps ahead of the economy by wearing bags that have weathered a hundred years of modish whims and have remained genuine classics. It's time now that these bags get the attention they have worked so hard for since the early 1900s.
Pendleton, an Oregon-based clothing company founded by the Bishop family in 1909, began as a woolen mill that specialized in blankets and basic apparel for Southwest Native Americans. Their success led to expansions in menswear and womenswear and they now have a booming retail, internet, and catalogue business where, of course, you can buy your new fall bag. This might be an old concept for some of you out there in their, ahem, forties or so, but I guarantee it's an original idea for the goslings out there waddling about in fashion-conscious cities.
But be not afraid my little goslings, these bags are actually kind of cool in a so-out-they're-in way, which is in my opinion, the only way. I'm definitely getting this one.
Pair it with some grey skinny-jeans and a solid top and viola! (Note: I'd stay away from wearing your so-in moccasins when you're rocking the Pendleton--might become a little costume-y.) Since plaid is all the rage for fall, this bag will be killer. And by killer I don't mean it will slaughter your budget or that it'll become smelly carnage you'll want to throw out with last week's Mexican leftovers. It's timeless in style, it's well made and will last for a long time, and it'll look good. And take a look at this number for under $200!
LL Bean has a similar leather tote for under a $100 that's also ageless, attractive, and affordable. (I'm tempted here to call these the three "As" of fashion-finds in a fledgling economy, but I won't. But I guess I just did. Fact checker, help me on that.)
And believe it or not, I'm not the only one who has picked up on this un-trend. Style.com reports that Pendleton bags have been spotted recently on the streets of one of the most fashion-forward cities in the universe, Tokyo, and that the re-emergence of the relevance of the brand is imminent. Well!
So now may be a good time to sell those old "it" bags on eBay and take a trip to the nearest Coinstar--that spare change laying around could get you halfway to your new favorite fall accessory that won't break the bank.