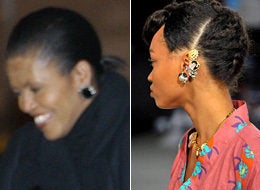 If you're like my mom and have a million clip-on earrings stored in jewelry box that I made at camp 20 years ago, then I must ask you two things: where did you get one of my handmade treasures, and two, how thrilled are you that clip-on earrings are back in style?!
The Spring shows did their best to move fashion away from the cute, vintage button earrings and reinstate the mode drama of huge, chandelier earrings and oversized clip-ons. Just as your lobes have begun to heal from your venture 7 years ago with ginormous earrings, they're back. And bigger than ever. So dig through the back of your drawer, pay a visit to Grandma, or check out the collection from Proenza Schouler -- these places will certainly uncover next season's boldest accessory.
Following my own advice, I checked out all three. Thankfully (and not for reasons solely related to fashion, although my jewelry collection and cheap tops from Mango might suggest otherwise) I spent a few months on and off in Rio de Janeiro over 2000-2001. So when I thrust my hand in the back of my sock drawer, I was able to pull out a velvet sack full of gigantic earrings which were as ubiquitous at the time in Rio as leggings are now. Glad I saved them! The tangled mess of silver, gold and earth stones (and ok, some feathers, but we'll leave those out of this) unraveled to become some very big, but very wearable earrings for spring. Obrigada, Brasil!
Next I headed to Mom's collection since she doesn't have her ears pierced. There I found the most amazing assortment of clip-ons this side of 1984. Bold geometric shapes, bulbous rocks, and primary and neon colors caught my eye, and my ears. It's hard to believe that my mom's clip-ons are so out they're in.
And as far as looking to the runways to uncover the trend, I'll let the pictures speak for themselves.
Proenza Schouler borrows from my mom; Marni's flower power: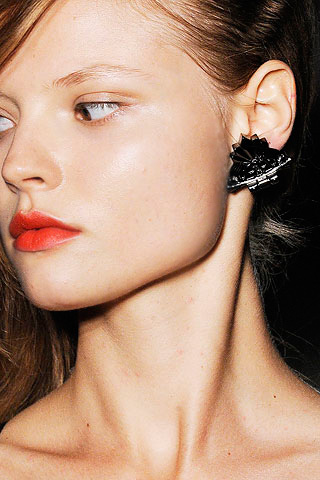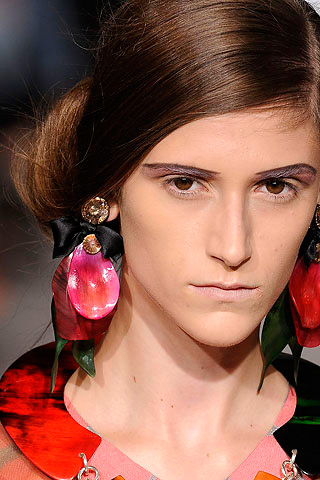 British designer Giles; Vivienne Westwood's door knockers: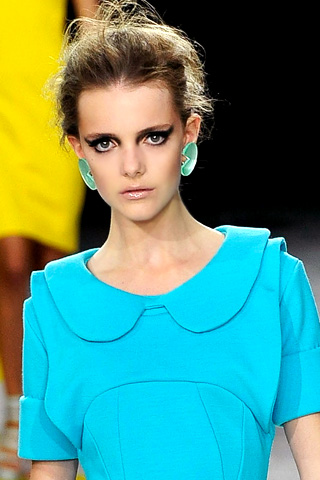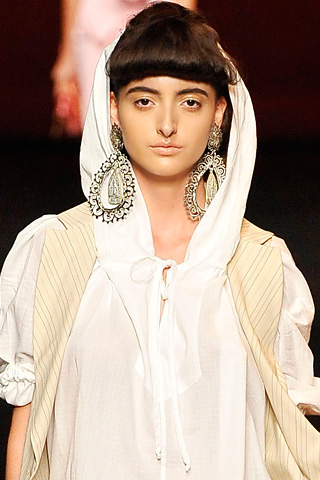 And Rachel Comey's: When Clip-Ons Attack, Vol I: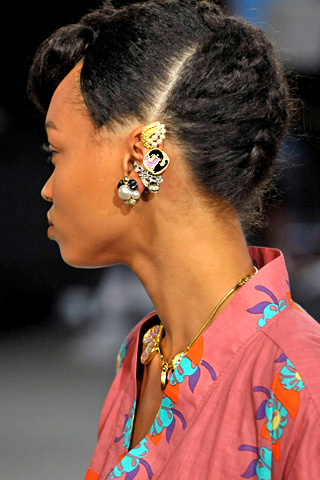 But the runway hasn't been the only place we've seen the clip-on revival. Michelle Obama wore some vintage inspired ones on date night: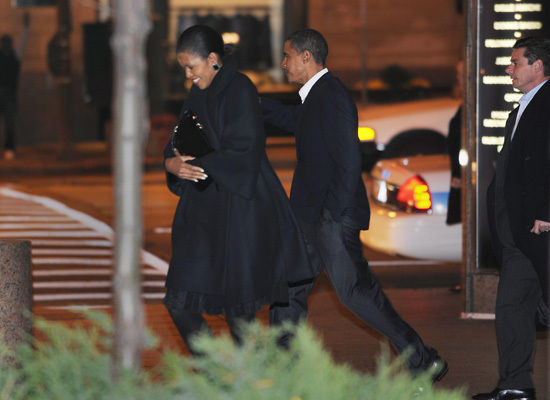 And yours truly can be seen around town in these Alexis Bittar clip-ons, enlarged here for your viewing pleasure: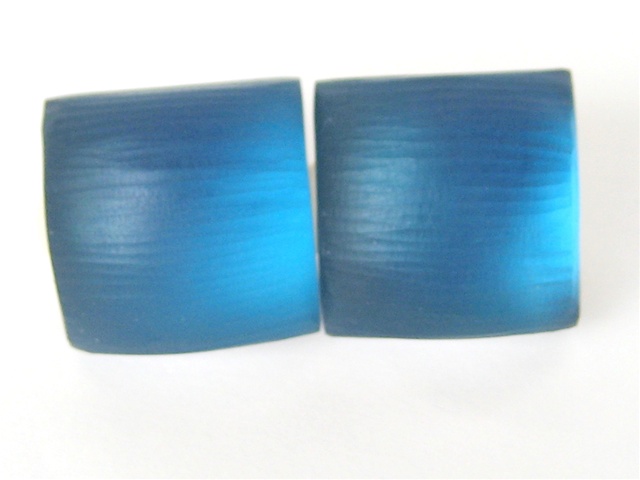 So take your small, barely noticable earrings, put them in a velvet pouch, pull the strings of the pouch to close it, open your top drawer, push your leggings to the side a bit, put the pouch in and stuff it all the way to the back. You'll need those button earrings in about 5-10 years.