I don't get many work emails that make me smile. For the most part they make me slam my head on my desk, throw my hands up in disbelief, or roll my eyes in distrust. But one happy email danced its way into my work inbox a few days ago, and I haven't stopped grinning since. Was it an announcement of a raise, you ask? No, of course not, but it was the next best thing: Casual Fall. That's right, jeans all week long!
I salivated with anticipation and excitement as I walked home. Once inside my apartment, I quickly began organizing my closet and putting away my lame work-pants and dresses and puling forth my jeans and denim-wear. No expense was spared. J Crew suit? Sorry, won't need ya, see you next job interview. Theory skirt? I never liked you anyway, hope you enjoy the view from the back of my closet. Jeans-I-haven't-worn-since-9th-grade? Step right up to the front, old pal!
My sweet roommate, afraid to disturb a fevered pack rat at work, commented softly, "Wow, you have every jean-style they've ever made." She then backed away slowly and quietly retreated to her bedroom and locked the door. Can't say that I blame her; can say that I respect her.
Jolted back into reality by her voice (I was hearing only the helium tones of denim elves before), I took a break from my jean-folding and color-coordinating to think about what my roommate had said. Did I really have every jean-style ever made? There lay boot-cut, straight-leg, skinny-leg, wide-leg, flare-leg, low-rise, ultra low-rise, high-waisted, and boyfriend jeans. Not to mention dark wash, light wash, stonewash, regular wash, and distressed. But then, with a pair of dark-washed straight-legs clutched in my chapped paws, I thought the unthinkable. Is there a jean style I don't own? Could it be?
After a pause for thought, I was ready to pat myself on the back for owning every type of jean when an idea flashed through my mind. It was a pair of jeans so frightening that it made my stomach turn: that light-blue color, that soft-denim fabric, that urge to go to little-league games. Was the one style missing actually the key to my jean originality? Horrified and intrigued, it was decidedly so.
The Mom Jean: so out that they're in. High-waisted and tapered, these jeans unapologetically accentuate the flat curvature of the 40+ buttock. If you've been to Kohl's or J.C. Penny, or if you have a mom, you've seen these jeans. And you've probably made fun of them.
But laugh no more; it's time to get serious. Jessica Simpson and Mischa Barton know what I'm talking about: they were the pioneers in a world unprepared for the fashion-forwardness of the Mom Jean, and they got punished. They may as well have been tied to a goal post, pelted with orange peels, then untied and asked to clean up the place and drive everyone home.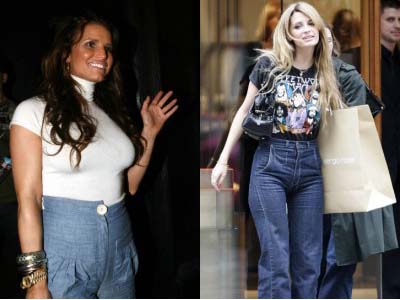 The Mom Jean flatters no one, but we're not going for good looks here. We're looking to score points with the judges under difficulty and originality. I think Mary-Kate Olsen uses the same mindset when dressing in the morning.
But unlike any starlet's ensemble, the Mom Jean outfit is sensible, and has a lot of pockets, and goes with every Chico's top out there. The combination of shock-value and wearability in fashion is not often found, but the Mom Jean owns it. So I gotta ask, is the Mom Jean wearer onto something? All this time I thought they were one step behind, but turns out they are two steps ahead. That's so "mom."
I'm not going to run out this weekend to get some Mom Jeans because, frankly, I don't think I'm ready. She who wears the Mom Jean and is not in fact a mom must be ready to take some heat. I'll leave the fashion-forwardness to the originators this Saturday and Sunday on soccer fields and football fields nationwide. But when the time comes, when I feel a little tingle in my ankle travel up past my navel, I'll know that I'm ready for the challenge of the Mom Jean.

Related