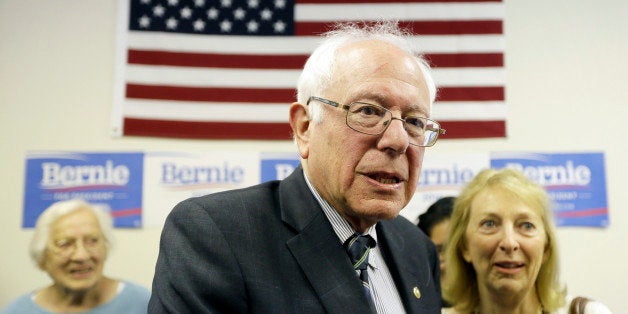 So that happened. On this week's podcast, we talk to Sen. Bernie Sanders (I-Vt.) about how he would get things done as president, discover the joys of hearing Rep. Mark Pocan (D-Wis.) deliver a magic trick, chat with Rep. Keith Ellison (D-Minn.) about the fast-track trade bill's life after death, and finally, we get the details on a bill that would prevent U.S. ground troops from being used in the fight against the Islamic State.
Listen to this week's "So, That Happened" podcast below:
Some highlights from this week:
"The Republicans get away with murder because nobody knows what they do. Nobody knows. Nobody knows that they want to give hundreds of billions of dollars in tax breaks to the top two-tenths of 1 percent." -- Sen. Bernie Sanders (I-Vt.) on the GOP's intentions for fixing income inequality
"You want me to come clean, and I think that everybody has to 'fess up at some time. So I will admit that we intended to… give subsidies to every state." -- Rep. Keith Ellison (D-Minn.) on whether Democrats intended for the semantic confusion that led to the Supreme Court's case over the Affordable Care Act's tax subsidies
"If you can't pass a lot of legislation, you have to do something. So I try to keep this on the side." -- Rep. Mark Pocan (D-Wis.) on his card trick tradition of "Magic Mondays"
This podcast was produced and edited by Ibrahim Balkhy and engineered by Brad Shannon, with assistance from Christine Conetta and Adriana Usero.
To listen to this podcast later, download our show on iTunes. While you're there, please subscribe, rate and review our show. You can check out other HuffPost Podcasts here.
Have a story you'd like to hear discussed on "So, That Happened"? Email us at your convenience!
REAL LIFE. REAL NEWS. REAL VOICES.
Help us tell more of the stories that matter from voices that too often remain unheard.
BEFORE YOU GO
PHOTO GALLERY
11 Paranoid Obama Conspiracy Theories