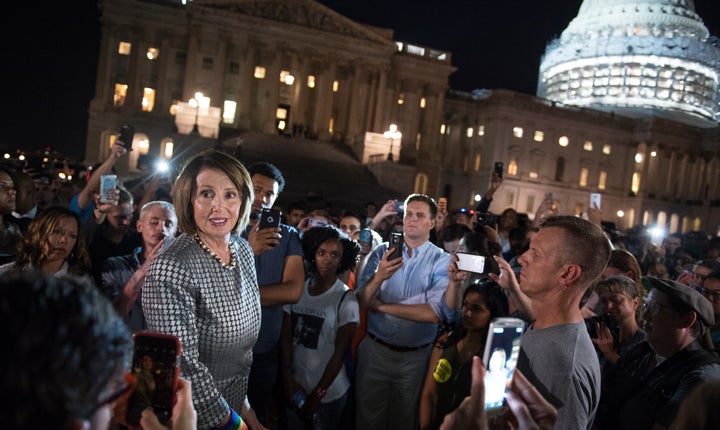 WASHINGTON -- They didn't change U.S. firearm policy or even get a vote on gun legislation, but congressional Democrats are claiming victory after staging a sit-in on the floor of the House of Representatives this week.
Lawmakers spent more than 24 hours occupying the well of the chamber, and left "feeling like something had fundamentally changed in Congress and even in America when it comes to this issue," Rep. Beto O'Rourke (D-Texas) told "So That Happened," the HuffPost Politics podcast.
Civil rights icon Rep. John Lewis (D-Ga.), who started the sit-in on Wednesday, described what Democrats had gained in metaphorical terms. 
"We've crossed one bridge but we have other bridges to cross," Lewis said at the Capitol. On "Bloody Sunday" in 1965, he and dozens of other demonstrators were brutally beaten by police after crossing the Edmund Pettus Bridge in Alabama.
Though the House adjourned without taking the vote Democrats demanded, O'Rourke and others said things would be different moving forward. 
"We are going back to our congressional districts -- we are going to engage our constituents on this subject, and we will not allow this body feel as comfortable as in the past," Rep. Jim Clyburn (D-S.C.) said Thursday. "On July 5, we will return, and at that time we will be operating on a new sense of a purpose."
As for the actual legislation Democrats had proposed -- one item would have restricted gun purchases for people on a secretive terrorist watchlist -- O'Rourke allowed that it was not ideal. Civil liberties activists have condemned the "no fly, no buy" proposal, which gained traction in the wake of the mass shooting by a terrorist sympathizer in Orlando, Florida.
O'Rourke, however, praised it for dramatizing the underlying problem of easy gun access.
"Perhaps at a higher level it calls attention to how absurd our gun laws are that you would have a list of people this country feels are too dangerous to board a plane," he said, "but they're not too dangerous to own a killing machine to wipe people out in a school or a nightclub."
"So, That Happened" is hosted by Jason Linkins, Zach Carter and Arthur Delaney. Joining them this week: Democratic congressman Beto O'Rourke, former White House staffer Daniella Leger and political strategist Patrick Ruffini.
Calling all HuffPost superfans!
Sign up for membership to become a founding member and help shape HuffPost's next chapter