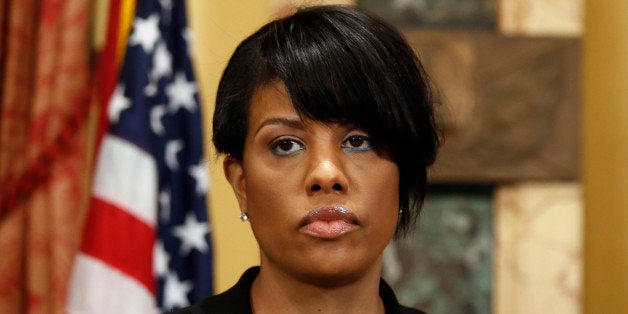 So that happened. This week we take a look into some of the backstory of Baltimore's issues with inequality in the wake of protests after Freddie Gray's death, get the scoop on arguments heard this week in the Supreme Court's landmark case on same-sex marriage, and explore some of the complexities surrounding campaign finance laws and Hillary Clinton's run for president.
Listen to this week's "So, That Happened" podcast below:
Some highlights from this week:
"I'm taking the train next week and so I'm really excited to get my 'Morning Joe' associate's degree in poverty journalism." -- Jason Linkins on Joe Scarborough's comments about seeing Baltimore from an Amtrak train
"You always hear about how concerned Roberts is about his legacy and the legacy of the Roberts court. And it does seem, even if you are against it, that the country is heading toward marriage equality and LGBT equality. So does he want his court to be remembered as the court that stood in the way of that, and which side of history does he want to be on?" -- Amanda Terkel on how Chief Justice John Roberts might vote in the Supreme Court's same-sex marriage case
"This isn't new with the Clintons, but the Clinton Foundation certainly provides a place for corporations and big donors to put their money if they want to get the ear of a political figure." -- Paul Blumenthal on the influence behind the Clinton Foundation
Links about things mentioned in this episode:
Never miss an episode: Subscribe to "So, That Happened" on iTunes, and if you like what you hear, please leave a review. We also encourage you to check out other HuffPost Podcasts: HuffPost's "Love + Sex," the HuffPost Weird News Podcast, HuffPost Comedy's "Too Long; Didn't Listen," HuffPost Politics' "Drinking and Talking" and HuffPost Religion's "All Together."
This podcast was edited by Ibrahim Balkhy and engineered by Brad Shannon, with assistance from Christine Conetta and Adriana Usero.
Have a story you'd like to hear discussed on "So, That Happened"? Email us at your convenience!
REAL LIFE. REAL NEWS. REAL VOICES.
Help us tell more of the stories that matter from voices that too often remain unheard.
BEFORE YOU GO
PHOTO GALLERY
Baltimore Protests