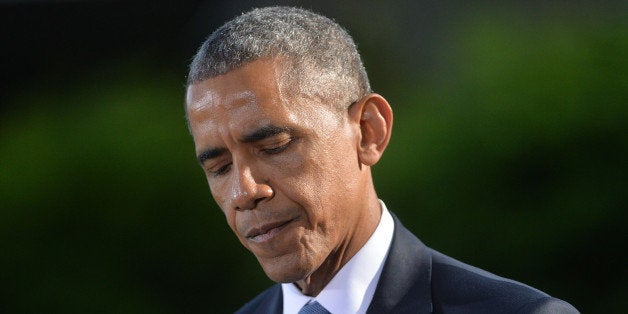 So that happened. This week we'll take a look at a trade deal that's so contentious, President Barack Obama is finding himself at odds with congressional leaders in his own party. We'll reflect on the tragic Amtrak train accident that left eight people dead, and discuss what role infrastructure funding can play in preventing this from happening again. Then, we'll discuss Seymour Hersh's new piece, which has become the center of a lot of criticism. Should his article be dismissed, or should it encourage other reporters to reopen the story around the death of Osama bin Laden?
Listen to this week's "So, That Happened" podcast below:
Some highlights from this week:
"The sort of narrative on TPP for a long time was that it was NAFTA on steroids, and I think it's a bit hyperbolic. I think it's more like NAFTA with earrings." -- Zach Carter explaining why this trade deal is so concerning
"It's sad that it takes these kinds of tragedies to focus so much energy and attention on this stuff, but this is why a forward-thinking, proactive Congress that actually wants America to succeed, and wants our infrastructure to be great, would be preferable to the one we have…" -- Jason Linkins discussing how infrastructure funding could prevent tragedies like the Amtrak train crash in Philadelphia
"Seymour Hersh has basically turned around to everyone else who's ever reported on this and said, 'Fuck you, you're an administration tool.'" -- Akbar Ahmed summarizing Hersh's article about Osama bin Laden
Links about things mentioned in this episode:
Never miss an episode: Subscribe to "So, That Happened" on iTunes, and if you like what you hear, please leave a review. We also encourage you to check out other HuffPost Podcasts: HuffPost's "Love + Sex," the HuffPost Weird News Podcast, HuffPost Comedy's "Too Long; Didn't Listen," HuffPost Politics' "Drinking and Talking," and HuffPost Religion's "All Together."
This podcast was edited and engineered by Brad Shannon, with assistance from Ibrahim Balkhy, Christine Conetta and Adriana Usero.
Have a story you'd like to hear discussed on "So, That Happened"? Email us at your convenience!
REAL LIFE. REAL NEWS. REAL VOICES.
Help us tell more of the stories that matter from voices that too often remain unheard.