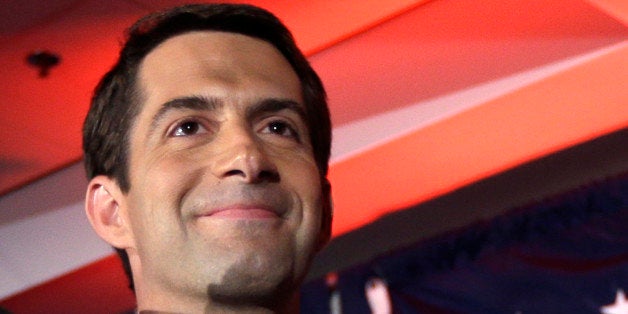 So, that happened. This week, Iranian leaders got a letter, authored by Sen. Tom Cotton (R-Ark.) and signed by 46 other Republican senators, in which a clear message was sent. That message? "No one should ever take the United States of America at its word." Why did this have to happen?
Listen to this week's "So, That Happened" below:
Some highlights from this week:
"The negotiations don't have any political incentives tied to them. It doesn't say you need to stop arming Hezbollah, you can't work with Hamas. It basically just says let's look at your nuclear program. Let's look at how many centrifuges you have. Let's look at how you enrich the uranium. Senator Corker's bill says that we can sanction you if you can't demonstrate that you've given up support for terrorism. So a lot of people see that as sort of a distracting, not-helpful clause." — Jessica Schulberg
Meanwhile, letters of an unseen, electronic variety are also in the news this week, as presumptive Democratic presidential contender Hillary Clinton spoke publicly for the first time about the email flap that's embroiled her nascent campaign. It's one big weird own-goal, and the soccer metaphors do not end there.
"I don't think you can avoid any other interpretation than she wanted to avoid some degree of scrutiny. It plays back into this whole overarching need for the Clintons to be sort of secretive. Had she just set up a state.gov email account and done a sufficient amount of business on this account, this would not be a story." — Jason Linkins
Finally, someone at the Federal Reserve spilled a secret to wealthy investors. Someone else at the Federal Reserve tried to find out who that was. Then everyone found out that the Federal Reserve was trying to find this out. And Congress would like to know why it hasn't been apprised about any of this. Will this bolster those who say the Fed deserves greater scrutiny? Spoiler alert: yes.
"It feeds into all the negative perceptions and skepticisms about the Fed that the public has: that it's too secretive, that it's not accountable, that it caters to wealthy elites instead of the general public." — Zach Carter
"So, That Happened" is available on iTunes. We've been working to create an eclectic and informative panel show that's constantly evolving, a show that's as in touch with the top stories of the week as it is with important stories that go underreported. We'll be here on a weekly basis, bringing you the goods.
Never miss an episode: Subscribe to "So, That Happened" on iTunes, and if you like what you hear, please leave a review. We also encourage you to check out other HuffPost Podcasts: HuffPost Comedy's "Too Long; Didn't Listen," the HuffPost Weird News Podcast, HuffPost Politics' "Drinking and Talking," HuffPost Live's "Fine Print" and HuffPost Entertainment's Podcast.
This podcast was edited by Ibrahim Balkhy and engineered by Brad Shannon, with assistance from Christine Conetta and Adriana Usero.
Have a story you'd like to hear discussed on "So, That Happened"? Email us at your convenience!
REAL LIFE. REAL NEWS. REAL VOICES.
Help us tell more of the stories that matter from voices that too often remain unheard.
BEFORE YOU GO
PHOTO GALLERY
Conservatives Pointing Fingers