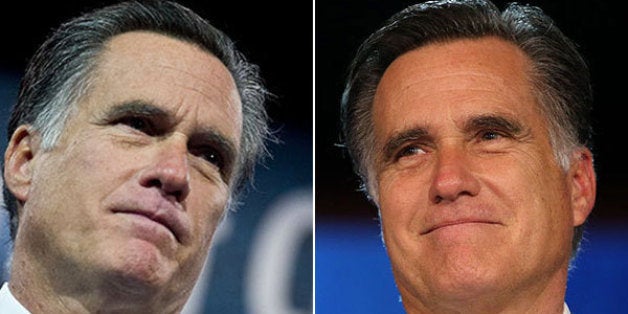 So that happened: This week, the 2016 presidential race was roiled by the announcement that former GOP nominee and 2012 loser Mitt Romney was, against all logic, getting his band back together to mount yet another run for the White House. This has baffled everyone, including The Huffington Post's Amanda Terkel, who joins us to form a chorus of confused noises.
Listen to this week's "So That Happened" below:
Jason Linkins wondered...
"If America needed him when the economy was bad, why do we need him when the economy is good?"
To which Amanda Terkel thought...
"I believe Mitt Romney does actually want to help the country. He actually values public service. But I don't go around the country and hear people saying, 'What we need now is Mitt Romney.'"
Some more highlights from this week:
Elsewhere, the past few weeks have seen the age-old battle between Wall Street and Main Street re-enjoined with American taxpayers facing the prospect of the Volcker Rule getting delayed. But the spines of the Democratic minority have suddenly stiffened. We talk about why with Zach Carter and Arthur Delaney.
"They don't want to be identified as the party of Wall Street at a time when a lot of people in the economy aren't doing so well." -- Zach Carter
Finally, President Barack Obama is pitching a plan to reform paid family leave for federal workers. We discuss the implications of the plan and its potential to spur similar reforms elsewhere.
"For all the talk about family values, having a kid in the United States often means you will suffer economic punishment if you want to raise your child." -- Arthur Delaney
We're very happy to let you know that "So That Happened" is now available on iTunes. We've been working to create an eclectic and informative panel show that's constantly evolving and as in touch with the top stories of the week as it is with important stories that go under-reported. We'll be here on a weekly basis, bringing you the goods.
Never miss an episode by subscribing to "So That Happened" on iTunes, and if you like what you hear, please leave a review. We'd also encourage you to check out other HuffPost Podcasts: HuffPost Comedy's "Too Long; Didn't Listen," HuffPost Weird News Podcast, HuffPost Politics' "Drinking and Talking," HuffPost Live's "Fine Print" and HuffPost Entertainment's Podcast.
This podcast was edited by Ibrahim Balkhy and sound engineered by Brad Shannon, with assistance from Christine Conetta, Chris Gentilviso and Adriana Usero.
Have a story you'd like to hear discussed on the "So That Happened" podcast? Email us at your convenience!
Calling all HuffPost superfans!
Sign up for membership to become a founding member and help shape HuffPost's next chapter
BEFORE YOU GO
PHOTO GALLERY
Mitt Romney Pointing Fingers