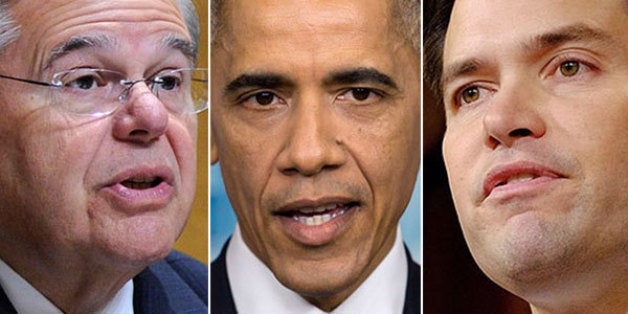 So, that happened: This week, President Barack Obama announced that the United States would make an effort to normalize relations with Cuba, ending a decades-long policy of distance that had been surprisingly effective in doing nothing in particular. We'll talk about the new plan, and the people who are hopping mad about it.
Listen to this week's "So That Happened" below:
Some highlights from this week:
"Those two, when they got the news, I don't know. It was like they became weird wind-up-toys of outrage." -- Jason Linkins
Meanwhile, a Seth Rogen-James Franco comedy has been canceled, because North Korea apparently now dictates what movies we watch in our spare time? How did something so simple get so out of hand?
"Films that relate to things in North Korea will not be made now and that is just outrageous. Something has got to give." -- Arthur Delaney
And finally, we're taking a look back at 2014 -- a great year for garbage monsters. What are our least-favorite things about the past year? Well, this is going to take a while.
"2014 has been f*cking terrible and at least in the world of public affairs, there have been almost no redeeming aspects to this terrible year." -- Zach Carter
We're very happy to let you know that "So, That Happened" is now available on iTunes. We've been working to create an eclectic and informative panel show that's constantly evolving and as in touch with the top stories of the week as it is with important stories that go underreported. We'll be here on a weekly basis, bringing you the goods.
Never miss an episode by subscribing to "So, That Happened" on iTunes, and if you like what you hear, please leave a review. We'd also encourage you to check out other HuffPost Podcasts: HuffPost Comedy's "Too Long; Didn't Listen," HuffPost Weird News Podcast, HuffPost Politics' "Drinking and Talking," HuffPost Live's "Fine Print," and HuffPost Entertainment's Podcast.
This podcast was edited by Ibrahim Balkhy and sound engineered by Brad Shannon, with assistance from Christine Conetta, Chris Gentilviso and Adriana Usero.
Have a story you'd like to hear discussed on the "So That Happened" podcast? Email us at your convenience!
REAL LIFE. REAL NEWS. REAL VOICES.
Help us tell more of the stories that matter from voices that too often remain unheard.
BEFORE YOU GO
PHOTO GALLERY
Obama's Handshakes Around The World