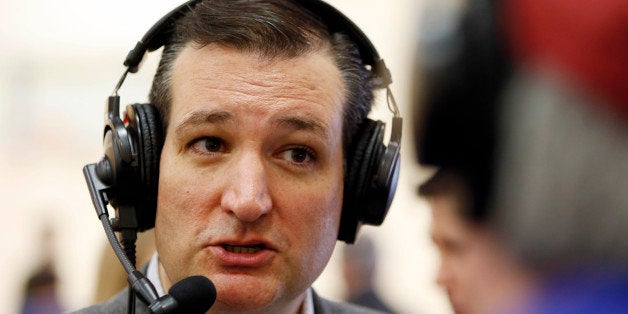 So, that happened. This week, the 2016 race welcomed Ted Cruz to the GOP scrum after the U.S. senator from Texas made his presidential ambitions clear to a literally captive audience of Liberty University students. He's been immediately anointed as a long shot, but is he really?
Listen to this week's "So, That Happened" below:
Some highlights from this week:
"There's been a pervasive theory in politics that harnessing the full power of evangelical voters can change election results. I'm skeptical about whether the evangelical vote is that powerful. I'm also skeptical about whether their vote is that monolithic." -- Jason Linkins
Meanwhile, there are other places in the world besides America. How are things going there, and what does it mean for us? We'll talk about elections in Israel, unrest in Yemen and -- I hesitate to even say this aloud -- a potentially hopeful turn in Afghanistan, graveyard of empires.
"Whether or not Netanyahu believes in the two-state solution, I think, is irrelevant to the Obama administration. More what it is, he based his next few years as prime minister on the promise that there will be no Palestinian state." -- Jessica Schulberg
"President Ghani's speech was almost reminiscent of the Bibi speech. People were so excited to see him. He got Congress to laugh, a total crowd-pleaser." -- Ali Watkins
Finally, as if you needed something even more surreal and complicated in your lives, we're going to talk about seigniorage, the minting of dollar coins, the minting of platinum coins, the eternally ephemeral nature of the concept of money and -- strangely enough -- whether Europeans are terrible people.
"I'm pretty much with Vitter on the policy issue. I think the seigniorage stuff is not important. If we want to come up with an imaginary $5.5 billion, we can do that in other imaginary ways. That's how money works." -- Zach Carter
"So, That Happened" is available on iTunes. We've been working to create an eclectic and informative panel show that's constantly evolving, a show that's as in touch with the top stories of the week as it is with important stories that go underreported. We'll be here on a weekly basis, bringing you the goods.
Never miss an episode: Subscribe to "So, That Happened" on iTunes, and if you like what you hear, please leave a review. We also encourage you to check out other HuffPost Podcasts: HuffPost's "Love & Sex," HuffPost Comedy's "Too Long; Didn't Listen," the HuffPost Weird News Podcast, and HuffPost Religion's "All Together."
This podcast was edited by Ibrahim Balkhy and engineered by Brad Shannon, with assistance from Christine Conetta and Adriana Usero.
Have a story you'd like to hear discussed on "So, That Happened"? Email us at your convenience!
Calling all HuffPost superfans!
Sign up for membership to become a founding member and help shape HuffPost's next chapter
BEFORE YOU GO